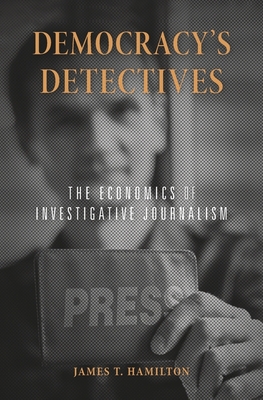 Democracy's Detectives (Paperback)
The Economics of Investigative Journalism
Harvard University Press, 9780674986817, 384pp.
Publication Date: October 8, 2018
Other Editions of This Title:
Hardcover (10/10/2016)
* Individual store prices may vary.
Description
Winner of the Goldsmith Book Prize, Shorenstein Center on Media, Politics and Public Policy at the Harvard Kennedy School of Government
Winner of the Tankard Book Award, Association for Education in Journalism and Mass Communication
Winner of the Frank Luther Mott-Kappa Tau Alpha Journalism & Mass Communication Research Award
In democratic societies, investigative journalism holds government and private institutions accountable to the public. From firings and resignations to changes in budgets and laws, the impact of this reporting can be significant--but so too are the costs. As newspapers confront shrinking subscriptions and advertising revenue, who is footing the bill for journalists to carry out their essential work? Democracy's Detectives puts investigative journalism under a magnifying glass to clarify the challenges and opportunities facing news organizations today.
"Hamilton's book presents a thoughtful and detailed case for the indispensability of investigative journalism--and just at the time when we needed it. Now more than ever, reporters can play an essential role as society's watchdogs, working to expose corruption, greed, and injustice of the years to come. For this reason, Democracy's Detectives should be taken as both a call to arms and a bracing reminder, for readers and journalists alike, of the importance of the profession."
--Anya Schiffrin, The Nation
"A highly original look at exactly what the subtitle promises...Has this topic ever been more important than this year?"
--Tyler Cowen, Marginal Revolution