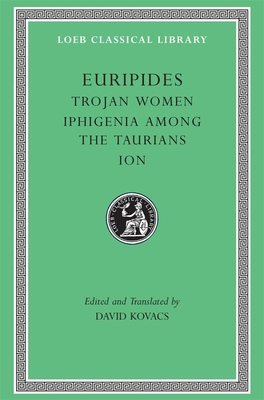 Trojan Women. Iphigenia Among the Taurians. Ion (Loeb Classical Library #10)
Hardcover

* Individual store prices may vary.
Other Editions of This Title:
Hardcover (5/25/2021)
Paperback (8/27/2013)
Paperback (3/10/2011)
Paperback (1/6/2009)
Hardcover (10/12/1999)
Hardcover (1/6/2009)
Paperback (9/14/1999)
Paperback (1/1/2009)
Paperback (11/10/2020)
Paperback (8/30/2018)
Paperback (5/21/2021)
Paperback (5/1/2005)
Paperback (3/30/2008)
Paperback (1/1/2006)
Description
One of antiquity's greatest poets, Euripides (ca. 485-406 BCE) has been prized in every age for the pathos, terror, surprising plot twists, and intellectual probing of his dramatic creations. Here, in the third volume of a new edition that is receiving much praise, is the text and translation of three of his plays.
Trojan Women, a play about the causes and consequences of war, develops the theme of the tragic unpredictability of life. Iphigenia among the Taurians and Ion exhibit tragic themes and situations (the murder of close relatives). Each ends happily with a joyful reunion.
As in the first three volumes of this edition, David Kovacs gives us a freshly edited Greek text and an admired new translation that, in the words of Greece and Rome, is "close to the Greek and reads fluently and well;" his introduction to each play and explanatory notes offer readers judicious guidance.
Harvard University Press, 9780674995741, 528pp.
Publication Date: December 1, 1999
or
Not Currently Available for Direct Purchase