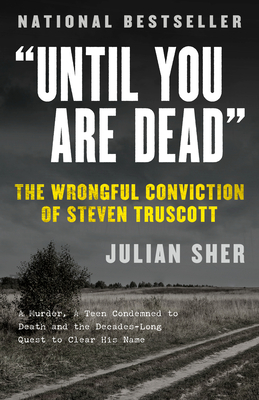 "Until You Are Dead": Steven Truscott's Long Ride Into History (Paperback)
Steven Truscott's Long Ride Into History
Vintage Books Canada, 9780676973815, 584pp.
Publication Date: August 13, 2002
* Individual store prices may vary.
or
Not Currently Available for Direct Purchase
Description
FULLY REVISED AND UPDATED

National Bestseller
Winner of the Canadian Authors Association Birks Family Foundation Award for Biography
Finalist for the Writers' Trust Shaughnessy Cohen Prize for Political Writing

The investigation that helped Truscott get a new appeal.

In 1959, a popular schoolboy, just 14 years old, was convicted and sentenced to hang for the rape and murder of his 12-year-old classmate. That summer, Canada lost its innocence and the shocking story of Steven Truscott became imprinted on the nation's memory. First published in 2001, "Until You Are Dead" revealed new witnesses, leads and evidence never presented to the courts. Now this national bestseller is fully revised and updated, and takes readers from that fateful night in 1959 up to the new appeal granted to Truscott in 2006. Julian Sher's award-winning and insightful chronicle details Steven Truscott's dramatic final battle – with the help of his family, investigative journalists and lawyers – to clear his name once and for all.
About the Author
Julian Sher is the author of several books, including the upcoming One Child at a Time: The Global Fight to Rescuethe Victims of Web Porn. Sher also co-wrote with William Marsden two national bestsellers, Angels of Death: Inside the Bikers' Empire of Crime and The Road to Hell: How the Biker Gangs are Conquering Canada. He has worked on investigative projects for the CBC, "The Globe and Mail," the "Toronto Star "and "The New York Times."
Praise For "Until You Are Dead": Steven Truscott's Long Ride Into History…
"Before there was Donald Marshall, David Milgaard, Guy Paul Morin, Gregory Parsons or Thomas Sophonow, there was Stephen Truscott. Julian Sher . . . has uncovered new evidence and written a compelling story detailing how Truscott's 1959 murder trial was horribly flawed."
—The Vancouver Sun

"A chilling search for truth."
—The Hamilton Spectator

"Passionate, thorough and highly readable . . . a weighty indictment of our criminal system, and the terrible results when it goes wrong."
—The Record (Kitchener-Waterloo)

"Read this book. You will be jarred by the reality of our justice system. This excellent, in-depth compilation of Steven Truscott's very disturbing case keeps you absorbed and in disbelief: Where is the justice?"
— Guy Paul Morin

"Sher writes with a finely measured sense of disbelief. How could this happen? he asks through every page. And we share his amazement, notwithstanding David Milgaard, Donald Marshall, Guy Paul Morin and Thomas Sophonow, all convicted until proven innocent ... Sher has written an important book. One that ought to serve as a warning to those who administer justice against arrogance. Nor should anyone be complacent on the issue, for every time a case is closed with the wrongly accused, a killer is left free to roam among us. "
— The Montreal Gazette, October 20, 2001

"The CBC television producer who earned Truscott's trust and helped make a national case of his continued claim of innocence, Montreal's Julian Sher, presents another compelling indictment of our justice system."
— The Toronto Star, October 21, 2001

"There have been previous books on the trial of Steven Truscott, but 'Until You Are Dead' ... is the most comprehensive analysis to date."
— The Globe and Mail
Advertisement