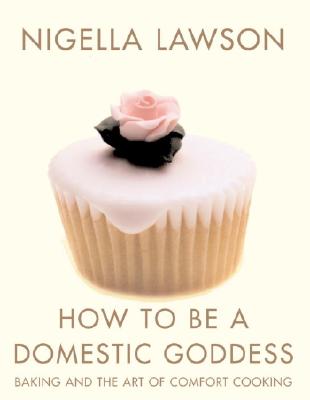 How to be a Domestic Goddess: Baking and the Art of Comfort Cooking (Paperback)
Baking and the Art of Comfort Cooking
Knopf Canada, 9780676974119, 384pp.
Publication Date: October 28, 2003
* Individual store prices may vary.
or
Not Currently Available for Direct Purchase
Description
Now in paperback: the gorgeous, bestselling modern classic puts baking back on the agenda, and makes it simple and alluring for today's cook.

How to be a Domestic Goddess is not about being a goddess, but about feeling like one. What this deliciously reassuring and mouthwatering cookbook demonstrates is that it's not hard to bake a tray of muffins or a sponge layer cake -- but the rewards they bring are disproportionately high.

Here is the book that feeds our fantasies, understands our anxieties and puts cakes, pies, pastries, preserves, puddings, bread and biscuits right back into our kitchens and our lives. There's everything from cupcakes to chocolate cakes; from brownies to bagels; from gooseberry-cream crumble to double apple pie; from pizza to pistachio macaroons; scones and muffins; cheesecakes and steamed syrup sponge; from baklava to a Barbie cake; as well as children's cooking, Christmas baking and other wonderful family festive treats -- all illustrated with ravishing photographs throughout.
About the Author
Nigella Lawson's bestselling books, How to Eat, How to be a Domestic Goddess, Nigella Bites and Forever Summer, together with her TV programs, have made her a household name all over the world. She writes occasionally for various publications and is a regular contributor to the "New York Times."
Praise For How to be a Domestic Goddess: Baking and the Art of Comfort Cooking…
"Working mothers must give thanks to Nigella. . . .What sets her apart from every other food writer is her empathy with working women and her realism. . . . Every page of How to be a Domestic Goddess is imbued with warmth." -- The Times

"Lawson's ability to transform cynical readers into flour-dusted virtuosi lies in her writing: informal, witty and self-deprecating. Gorgeous colour photographs also inspire readers." -- Toronto Star

"Combining the voice of a good friend and the sense of a good mother, Nigella Lawson serves up domestic bliss on a cake plate!" -- Alison Fryer, The Cookbook Store, Toronto

"I love Nigella Lawson's writing and I love her recipes." -- Delia Smith

"Working mothers must give thanks to Nigella…. What sets her apart from every other food writer is her empathy with working women and her realism…. Every page of How to Be a Domestic Goddess is imbued with familial warmth." -- The London Times

"Her prose is as nourishing as her recipes… A book that should please mere readers, as well as serious cooks and happy omnivores." -- Salman Rushdie

"Most cookbooks and food shows are about control, precision, and fear of doing something incorrectly. In Nigellaworld, the kitchen is not a science lab with rigid rules and formulas to follow. It's a place to play, sometimes with your friends and kids." -- Joe Dolce, Gourmet
Advertisement