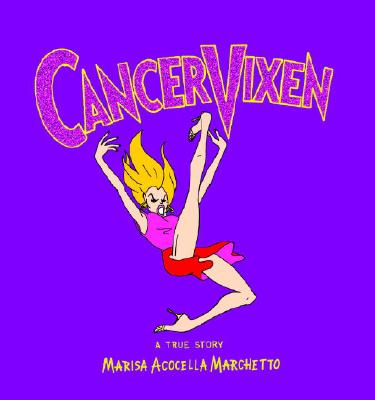 Cancer Vixen
A True Story
Hardcover

* Individual store prices may vary.
Other Editions of This Title:
Paperback (9/29/2009)
Hardcover, Spanish (1/1/2008)
Hardcover (9/26/2006)
Description
"What happens when a shoe-crazy, lipstick-obsessed, pasta-slurping, fashion-fanatic, madly-in-love, about-to-get married, big-city-girl cartoonist with a fabulous life finds . . . a lump in her breast?"

That's the question that sets this funny, powerful and poignant graphic memoir in motion. In vivid colour and with a taboo-breaking sense of humour, Marisa Marchetto tells the story of her 11-month, ultimately triumphant bout with breast cancer – from diagnosis to cure, and every challenging step in between.

But Cancer Vixen is about more than surviving an illness. It is a portrait of one woman's supercharged life in Manhattan, and a wonderful love story. Marisa, self-described "terminal bachelorette" meets her Prince Charming in Silvano, owner of the chic downtown trattoria Da Silvano. A month before their wedding, she receives her diagnosis. She wonders: How will he react to this news? How will my world change? Will I even survive? And . . . what about my hair?

From raucous New Yorker staff lunches and the star-studded crowd at Silvano's restaurant, to the rainbow pumps Marisa wears to chemotherapy, Cancer Vixen is a total original. Her wit and courage are an inspiration – she's a cancer vixen, not its victim: "Cancer," she says, "I'm going to kick your butt! And I'm going to do it in killer four-inch heels!"
Praise For Cancer Vixen: A True Story…
"In 2004, cartoonist Marchetto, a hyper-stylish 'terminal bachelorette,' was busy capturing 'fabulista' humor, in the New Yorker and Glamour. She was engaged to a fabulous guy, perennially cool restaurateur Silvano Marchetto, whose personal style perfectly matched her Manhattan-centric life. If this were fiction, this is exactly when she'd stumble; unfortunately for her, life imitated art, and sure enough, she found a lump in her breast shortly before her wedding . . . Cancer Vixen tells the story of what happens next, and how her inner circle – stylists, gossip columnists, shoe designers and assorted others you'd only find in New York City, rallies round to help her beat the disease and get married on time and in high style. Marchetto wears her best high heels to chemotherapy and remarks on the similarities between her hospital gown and Diane von Furstenberg designs. The fashion details are great fun, drawn in a spare loose style, but it's the heart of her story, the support and love she gets from her family and friends, that make Cancer Vixen a universal story that's hard to put down."
–Publishers Weekly

"What's a New Yorker cartoonist fashionista who gets breast cancer to do? Draw a cartoon about it, of course, and this painful and very funny memoir is the result. Determined not to cave into gloom and doom, Marchetto negotiated 'chemo light' to keep her hair; wore killer shoes to chemo sessions, and dithered that her fiancé – an 'in' restaurateur hit on by hot models – would dump her. Advice from everyone complicates her crisis. Her mother advises, 'Get rid of your negativity, hon,' her Best-Friends-Forever brigade recommend numerous experts, her higher self hovers cross-legged over her head admonishing, 'You have a lot of spiritual work to do!' Marchetto's account is not merely vivid and engrossing but also a close-up of what a cancerista could expect . . . Highly recommended. "
–Library Journal, starred review

"A health crisis provides an accomplished cartoonist with the richest material of her career. Though there's never an ideal time for someone to learn she has cancer, Marchetto . . . found it particularly ironic that the worst news she'd ever received came during the best stretch of adult life she'd ever enjoyed. She'd started selling cartoons to the New Yorker . . . had fabulous friends, fabulous shoes and an overstuffed apartment she could afford. Best of all, she had fallen madly in love with a celebrity restaurateur who somehow preferred her to all the leggy models who patronized Da Silvano's and fawned all over him. Then she discovered the lump, learned she had breast cancer and realized that she had let her health insurance lapse. From this potentially depressing material, the author has drawn a triumphant, biting, self-deprecating, journalistically detailed and frequently hilarious account of true love conquering all . . . . Somehow, the graphic artist has taken the tone of Sex and the City into the cancer ward, with a happy ending that makes her memoir seem all the more life-affirming. Inspirational proof that there's nothing like a death scare to put life into perspective."
–Kirkus Reviews, starred review

"Cancer Vixen… [is] Marisa Acocella Marchetto's Sex in the City—style portrait of her battle with breast cancer."
–Elizabeth Williams with Raya Kuzyk, Library Journal

"Cancer Vixen is a visually electric read, but it's also a good old-fashioned story of triumph – starring a New York woman with great shoes, fast-talking friends and the most honest dialogue I've ever read about what it's like to face disease. Cancer Vixen is 100% unputdownable. This is NOT a treacly survival story, NOT an expected woe-is-me tale – it's a lively, surprising, and completely absorbing story of single life, love, best friends, clothes, work travails, New York apartments, late dinners . . . and, yes, cancer. I just love this book."
–Cindi Leive, Editor-in-Chief, Glamour

"I salute Marisa Acocella Marchetto and women like her who not only have the courage to battle breast cancer, but are able to do it with such unflagging optimism, creativity and humor. Marisa's willingness to share her experiences in such an honest, personal way is an incredible inspiration – whether you have experienced breast cancer yourself or love someone who has endured its many challenges."
–Evelyn H. Lauder, Founder and Chairman, The Breast Cancer Research Foundation

"Cancer Vixen redefines the memoir by expanding what's possible in the genre. Incredibly bold and brave, inspiring and absolutely packed with life-force, it's one of the freshest works of autobiography I've read in years. Part love story, part survival guide, Cancer Vixen is for everyone who would never read a cancer book. And it's for everyone who believes they'll never fall in love. Here's proof that sometimes the worst thing that can happen to us is actually the very best thing, in disguise."
–Augusten Burroughs, author of Running with Scissors and Dry: A Memoir

"Cancer Vixen is so powerful it made me cry as I laughed. Marisa Acocella Marchetto's strength and wit in the face of such a terrible disease should be a beacon for all women."
–Paula Froelich, CBS's "The Insider" correspondent, reporter for New York Post's Page Six gossip column, and author of It! Nine Secrets of the Rich and Famous that Will Take You To The Top
Knopf Canada, 9780676978247, 224pp.
Publication Date: September 26, 2006
or
Not Currently Available for Direct Purchase