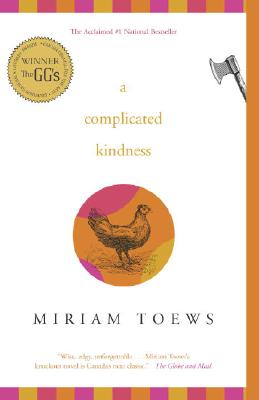 A Complicated Kindness (Paperback)
Vintage Canada, 9780676978568, 256pp.
Publication Date: May 1, 2007
* Individual store prices may vary.
or
Not Currently Available for Direct Purchase
Description
Sixteen-year-old Nomi Nickel longs to hang out with Lou Reed and Marianne Faithfull in New York City's East Village. Instead she's trapped in East Village, Manitoba, a small town whose population is Mennonite: "the most embarrassing sub-sect of people to belong to if you're a teenager." East Village is a town with no train and no bar whose job prospects consist of slaughtering chickens at the Happy Family Farms abattoir or churning butter for tourists at the pioneer village. Ministered with an iron fist by Nomi's uncle Hans, a.k.a. The Mouth of Darkness, East Village is a town that's tall on rules and short on fun: no dancing, drinking, rock 'n' roll, recreational sex, swimming, make-up, jewellery, playing pool, going to cities or staying up past nine o'clock. As the novel begins, Nomi struggles to cope with the back-to-back departures three years earlier of Tash, her beautiful and mouthy sister, and Trudie, her warm and spirited mother. She lives with her father, Ray, a sweet yet hapless schoolteacher whose love is unconditional but whose parenting skills amount to benign neglect. Father and daughter deal with their losses in very different ways. Ray, a committed elder of the church, seeks to create an artificial sense of order by reorganizing the city dump late at night. Nomi, on the other hand, favours chaos as she tries to blunt her pain through "drugs and imagination." Together they live in a limbo of unanswered questions. Nomi's first person narrative shifts effortlessly between the present and the past. Within the present, Nomi goes through the motions of finishing high school while flagrantly rebelling against Mennonite tradition. She hangs out on Suicide Hill, hooks up with a boy named Travis, goes on the Pill, wanders around town, skips class and cranks Led Zeppelin. But the past is never far from her mind as she remembers happy times with her mother and sister -- as well as the painful events that led them to flee town. Throughout, in a voice both defiant and vulnerable, she offers hilarious and heartbreaking reflections on life, death, family, faith and love. Eventually Nomi's grief -- and a growing sense of hypocrisy -- cause her to spiral ever downward to a climax that seems at once startling and inevitable. But even when one more loss is heaped on her piles of losses, Nomi maintains hope and finds the imagination and willingness to envision what lies beyond. Few novels in recent years have generated as much excitement as A Complicated Kindness. Winner of the Governor General's Award and a Giller Prize Finalist, Miriam Toews's third novel has earned both critical acclaim and a long and steady position on our national bestseller lists. In the Globe and Mail, author Bill Richardson writes the following: "There is so much that's accomplished and fine. The momentum of the narrative, the quality of the storytelling, the startling images, the brilliant rendering of a time and place, the observant, cataloguing eye of the writer, her great grace. But if I had to name Miriam Toews's crowning achievement, it would be the creation of Nomi Nickel, who deserves to take her place beside Daisy Goodwill Flett, Pi Patel and Hagar Shipley as a brilliantly realized character for whom the reader comes to care, okay, comes to love." This town is so severe. And silent. It makes me crazy, the silence. I wonder if a person can die from it. The town office building has a giant filing cabinet full of death certificates that say choked to death on his own anger or suffocated from unexpressed feelings of unhappiness. Silentium. People here just can't wait to die, it seems. It's the main event. The only reason we're not all snuffed at birth is because that would reduce our suffering by a lifetime. My guidance counsellor has suggested to me that I change my attitude about this place and learn to love it. But I do, I told her. Oh, that's rich, she said. That's rich. . . We're Mennonites. After Dukhobors who show up naked in court we are the most embarrassing sub-sect of people to belong to if you're a teenager. Five hundred years ago in Europe a man named Menno Simons set off to do his own peculiar religious thing and he and his followers were beaten up and killed or forced to conform all over Holland, Poland, and Russia until they, at least some of them, finally landed right here where I sit. Imagine the least well-adjusted kid in your school starting a breakaway clique of people whose manifesto includes a ban on the media, dancing, smoking, temperate climates, movies, drinking, rock'n'roll, having sex for fun, swimming, makeup, jewellery, playing pool, going to cities, or staying up past nine o'clock. That was Menno all over. Thanks a lot, Menno.
--from A Complicated Kindness
About the Author
Miriam Toews (pronounced taves) was born in 1964 in the small Mennonite town of Steinbach, Manitoba. She left Steinbach at 18, living in Montreal and London and touring Europe before coming back to Manitoba, where she earned her B.A. in film studies at the University of Manitoba. Later she packed up with her children and partner and moved to Halifax to attend the University of King's College, where she received her bachelor's degree in journalism. Upon returning to Winnipeg with her family in 1991, she freelanced at the CBC, making radio documentaries. When her youngest daughter started nursery school, Toews decided it was time to try writing a novel. Miriam Toews's first novel, Summer of My Amazing Luck, was published in 1996; it was nominated for the Stephen Leacock Memorial Medal for Humour and won the John Hirsch Award. Published two years later, her second novel, A Boy of Good Breeding, won the McNally Robinson Book of the Year Award. She is also the author of Swing Low: A Life, a memoir of her father who committed suicide in 1998 after a lifelong struggle with manic depression. Swing Low won both the McNally Robinson Book of the Year Award and the Alexander Kennedy Isbister Award for Non-Fiction. Toews has written for the CBC, This American Life (on National Public Radio), Saturday Night, Geist, Canadian Geographic, Open Letters and The New York Times Magazine, and has won the National Magazine Award Gold Medal for Humour. Toews's third novel, A Complicated Kindness, has been called "a black humour grenade, dealing a devastating explosion of gut-busting laughs alongside heart-wrenching sorrow." The Globe and Mail quotes Toews as saying: "Sometimes I am bugged by my own tendency to continuously go for the laughs, but I am trying to be genuinely funny even if it's in a dry, tragic way. I don't know if there is a Mennonite type of humour, but growing up with my dad, from day one I felt it was my job to make him laugh." The memory of her father has influenced Toews's fiction in another profound way: "Loss inspired the story, loss with no answers. I think I needed to put that on Nomi. She was going to be the person who would take me through the process of dealing with loss and wondering where those people went." She adds: "I have seen the damage that fundamentalism can do. The way the religion is being interpreted, it's a culture of control and that emphasis on shame and punishment and guilt is not conducive to robust mental health." Though she no longer attends a Mennonite church, Toews says that she still considers herself a Mennonite. And despite the novel's exploration of the destructive elements of life in a small religious community, she says: "I hope that people will recognize that there are aspects of it that I really love and really miss."
Praise For A Complicated Kindness…
"Miriam Toews, the award winning Canadian author, embodies Nomi's voice with such an authentic and manic charm that it's hard not to fall in love with her... A Complicated Kindness captures the struggles of a family and its individuals in a fresh, wondrous style. Despite this complexity of family tensions, much of A Complicated Kindness is pleasantly plotless. The looseness of Nomi's worldview, the sometimes blurry nonfocus of it, the unexpected sideways humor, make this book the beautiful and bitter little masterpiece it is."
—The Believer

"Poignant....Bold, tender and intelligent, this is a clear-eyed exploration of belief and belonging, and the irresistible urge to escape both."
—Publishers Weekly

"Wise, edgy, unforgettable, the heroine of Miriam Toews's knockout novel is Canada's next classic."
—Globe and Mail Books section cover

"A Complicated Kindness is just that: funny and strange, spellbinding and heartbreaking, this novel is a complicated kindness from a terrifically talented writer."
—Gail Anderson-Dargatz

"Why the compulsion to laugh so often and so heartily when reading A Complicated Kindness? That's the book's mystery and its miracle. Has any of our novelists ever married, so brilliantly, the funny — and I mean posture-damaging, shoulder-heaving, threaten- the- grip- of- gravity- on- recently- ingested- food brand of funny — and the desperately sad —that would be the three-ply- tissue, insufficient- to- the- day, who- knew- I- had- this- much- snot- in- me brand of sad? I don't think so."
—The Globe and Mail

"Truly wonderful…. A Complicated Kindness is…one of the year's exuberant reads. Toews recreates the stultifying world of an exasperated Mennonite teenager in a small town where nothing happens with mesmerizing authenticity. . . . Toews seduces the reader with her tenderness, astute observation and piquant humour. But then she turns the laughs she's engendered in the reader like a knife."
—Toronto Star

"Right away we're hooked on our narrator's [Nomi's] mournful smarts….A Complicated Kindness is affecting, impeccably written, and has real authority, but most of all it is immediate. You — as they say — are there….like waking up in a crazy Bible camp, or witnessing an adolescent tour guide tear off her uniform and make a break for the highway."
—Quill & Quire

"...knockout novel. …There's leave-taking in this book. But there's wholeness, too. It is a joy."
—Jennifer Wells, Toronto Star

"Now comes A Complicated Kindness, in which Toews' deft hand combines aspects of her previous subjects — love, small-town politics, rigid religious parameters, depression, — and comes up with something completely new."
—Leslie Beaton Hedley, Calgary Herald

"A Complicated Kindness struck me like a blow to the solar plexus. Toews, somewhat like Mordecai Richler, makes you feel the pain of her protagonist while elucidating the predicament of her people, always mixing a large dose of empathy with her iconoclastic sense of the ridiculous. When she's funny, she's wickedly so. But the book has a dark, disturbing side to it that grows stronger as the story progresses."
—Pat Donnelly, The Gazette (Montreal)

"In novel full of original characters…Toews has created a feisty but appealing young heroine…. As an indictument against religious fundamentalism, A Complicated Kindness is timely. As a commentary on character it is fresh and inventive, and as storytelling it is first rate."
—The London Free Press

"Toew's offers up a wickedly funny new voice…. Nomi is wickedly funny, irreverent, intelligent and compassionate. Toews masteres the character's voice and never allows her own to intrude."
—Fast Forward Weekly (Calgary)

"A Complicated Kindness works its way up to a powerful ending through the accumulation of anecdote and detail…. Toew's sense of the absurd works brilliantly to expose the hypocrisy of fundamentalist kindness, a love in reality all too conditional…. A Complicated Kindness, at its core, is a depiction of the battle between hope and despair … yet along the way we are treated to an unforgettable summer with a heroine who loses everything but it s ultimately able to hold on to life, to a sense of herself, and to maintain her courage and optimism In the face of a world without any guaranteed happy endings."
—Georgia Straight

"A Complicated Kindness…looks like a breakthrough…. It is narrated by a deastating ly funny and heartbreakingly bewildered young woman named Nomi."
—The Bookseller (mcnallyrobinson.com)

"This book is as good as anything out there at the moment. But don't take my word for it, take the word of your fellow citizens: It's hit numerous Canadian bestseller lists…. [T]his is a well-crafted, witty, sardonic and ultimately sad look inside the world of Mennonites as they exist in East Village, Manitoba."
—Ottawa Citizen

"From time to time…we are reminded of what we once saw in this cockamamie enterprise. Along comes book that stands out from the crowd. A Complicated Kindness is just such a book…. Miriam Toews of Winnipeg has delivered a new novel that has us all buzzing…. Ray is a wonderful character….Miriam Toews tells her sometimes harrowing, often very funny story with total confidence. You'll car about Nomi and Ray and you won't want it to end. I promise…. It's a very different book, but A Complicated Kindness might be this year's The Curious Incident of the Dog in the Night Time."
—University of Toronto Bookstore Review

"The narrative voice is so strong, it could carry the last eventful, least weird adolescence in the world and still be as transfixing…. Toew's novel is a wonderfully acute, moving, warm, sceptical, frustrated portrait of fundamentalist religion…. The book is fascinating, and resonant, and inexorable…"
—Saturday's Guardian (UK)

"A Complicated Kindness is a delight from beginning to end.  The humour might be of the blackest sort ('People here just can't wait to die, it seems.  It's the main event.'), but the cumulative effect is liberating and defiantly joyful."
—Daily Mail

"In Miriam Toews' agreeably off-kilter novel, A Complicated Kindness, the sanguineous and sanguine are combined in Nomi Nickel." 
—TLS

"One of my favourite books so far this year is A Complicated Kindness by Miriam Toews. ... (A) sweet, sad, hilarious novel ... The voice Miriam Toews has created for Nomi is utterly unique and absolutely convincing, and her adolescence in 'the most embarrassing sub-sect of people to belong to if you're a teenager' is at times painfully funny, and at others just painful."
—Suzie Doore, Booksellers Choice, The Bookseller

"Nomi is a wonderful narrator ... Original and poignant, with exquisite tone."
—Juliet Fleming, Booksellers Choice, The Bookseller

"Canadian writer's UK debut, the story of a teenage girl growing up in Manitoba in an obscure religious sect, who narrates her story in a lovely voice, fresh and funny."
—Star Ratings, The Bookseller

Advance Praise for A Complicated Kindness:
"It is a complicated kindness indeed that gives us this book. Miriam Toews has written a novel shot through with aching sadness, the spectre of loss, and unexpected humor. You want to reach inside and save 16-year-old Nomi Nickel, send her the money for a plane ticket to New York, get her a cab to CBGB's on the Bowery and somehow introduce her to Lou Reed. It might seem an odd metaphor to use about someone who has authored such a vivid, anguished indictment of religious fundamentalism, but Miriam Toews writes like an angel."
—David Rakoff, author of Fraud

"The narrator of this novel, Nomi Nickel, is wonderful. She scrapes away the appearances in her small town and offers what she finds in a voice that is wry, vulnerable, sacrilegious and, best of all, devastatingly funny. This is Miriam Toews at her best."
—David Bergen, author of The Case of Lena S.

Praise for Miriam Toews:
"A Boy of Good Breeding broke unexpectedly through critical armour and caught me at the throat, made me laugh and weep with sad-sweet joy. . . . This novel is tonic for the spirit: a charming, deeply moving, unerringly human story, perfectly shaped and beautifully told."
—The Globe and Mail

"The father's narration she invented, so expressive and powerful in its understatement, comes across as entirely true in the telling. . . . Toews' novelistic skills (the award-winning comic novels Summer of My Amazing Luck and A Boy of Good Breeding) are richly apparent in her evocative characterizations and in the deft drama of the narrative."
—Toronto Star

"Delightfully humorous, subversive and naughtily clever. . . . Brava, Miriam Toews."
—Prairie Fire
Advertisement