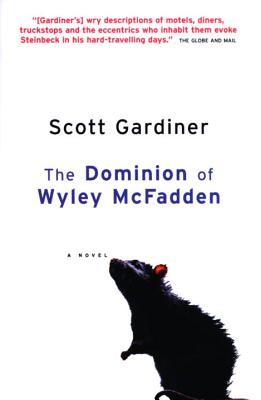 The Dominion of Wyley McFadden (Paperback)
Vintage Books Canada, 9780679311058, 352pp.
Publication Date: August 14, 2001
* Individual store prices may vary.
or
Not Currently Available for Direct Purchase
Description
The world's only rat-free zone is about to be invaded by a contrary man with a mission. Wyley McFadden, ex-fertility doctor-turned-urban trapper, has launched an outlandish scheme to redress geo-zoological discrimination in Canada. In what looks like an ordinary camper van, McFadden is transporting a contraband cargo from Toronto to Alberta. But just past Wawa, he spots a female hitchhiker in a mud-encrusted tennis outfit. As McFadden gets closer, he realizes she is being eaten alive by mosquitoes and black flies. Fearful, starving and exhausted, the girl doesn't seem to know where she's headed and refuses to explain how she came to be hitchhiking in the middle of nowhere, warding off his questions by asking him about his own past. But once McFadden reveals his secrets, including the reason for his journey, she launches into her own shocking and terrifying story.
About the Author
Scott Gardiner's writing has appeared in several publications, including "Toronto Life," "Canadian Geographic," "The Globe and Mail" and "The Toronto Star." He has worked as a deckhand on the Great Lake freighters, a wall-plasterer in Spain, a soap salesman in Germany, a fact-checker at "Maclean's" and an education consultant in Labrador. He lives in Toronto.
Praise For The Dominion of Wyley McFadden…
"A rich, dark and highly accomplished debut." —Ottawa Citizen

"Gardiner brings together many disparate subjects, including the legal entrapment of rats...the human fertility industry...sexual victims, what it is to be Canadian, Quebec separatism and Alberta's idiosyncratic politics." —The Toronto Star

"[Gardiner's] wry descriptions of motels, diners, truckstops and the eccentrics who inhabit them evoke Steinbeck in his hard-travelling days." —The Globe and Mail

"The Dominion of Wyley McFadden is a first novel but it sure doesn't feel like one. Gardiner's writing is tight and sure…. The reason the novel works is because Gardiner has Wyley's voice exactly rigth; he was born to talk and his story feels like something you would expect from W.O. Mitchell…. A promising novel…. Wyley McFadden, the hero of this, Scott Gardiner's first novel is a man with a mission…Gardiner has a fine sense of atmostphere, whether it is in the camper or in a truckstop restaurant." —Edmonton Journal
Advertisement