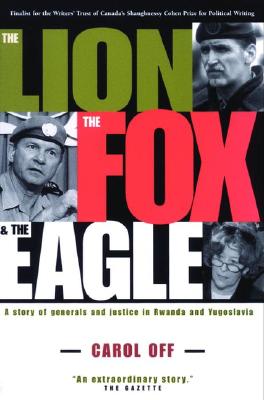 The Lion, the Fox and the Eagle (Paperback)
Vintage Books Canada, 9780679311386, 416pp.
Publication Date: October 9, 2001
* Individual store prices may vary.
or
Not Currently Available for Direct Purchase
Description
Three Canadians Lewis MacKenzie, Romeo Dallaire and Louise Arbour were at the centre of the two greatest tragedies of the 1990s. Two of them could have stopped the killing. One was asked to bring the perpetrators to justice. In this riveting, original and explosive book, Carol Off explores the failure of peacekeeping missions in Sarajevo and Rwanda, and the international community's attempt to redeem itself by prosecuting the people responsible for the genocides. Events turned on the action of two Canadian generals: the fox of the title, Lewis MacKenzie, who commanded the UN forces in Bosnia for the first crucial months of the conflict; and the lion, Romeo Dallaire, who developed an interventionary plan that he believed would have prevented the Rwandan genocide but was forced by the UN to stand by while 800,000 people were slaughtered. The eagle is Louise Arbour, a Canadian judge who became Chief Prosecutor for War Crimes in Rwanda and the former Yugoslavia.
About the Author
Carol Off has travelled and reported on many of the world s conflicts from the Gulf War to the fall of Yugoslavia. She has won numerous awards for her television and radio coverage of such stories as the plight of women refugees, the ethnic cleansing of Bosnia and the escape routes of war criminals. Off has followed the events of the war crimes tribunals since the beginning. She lives and works in Toronto."
Praise For The Lion, the Fox and the Eagle…
"In Off's fluid and measured account, Dallaire emerges as a tragic hero, a symbol of the world's failure to respond to the second genocide of the 20th century….Off's opposing role models — the impotent man of conscience and the cynical advocate of moral equivalence — offer insights into how we might do better next time the unthinkable happens. And it will." —Time (Andrew Purvis)

"Off is a smooth and powerful writer, delivering a mixture of descriptive passages, contextual background and editorial argument which collectively produce a provocative page-turner….Her concise backgrounder and summary of the horrific genocide in Rwanda in 1994 is the best account I have read." —The Globe and Mail (Scott Taylor)

"…the CBC reporter steers by her own conscience and that is to tell the story from the point of view of the powerless." —Vancouver Sun

"Off deserves praise for painting this appalling picture so vividly." —The Edmonton Journal

"The Lion the Fox and the Eagle provides a solid account of the roles three Canadians played on the world stage in two of the bloodiest conflicts at the close of the century." —The Chronicle-Herald

"It is a powerful book, and Off writes with a meticulous sense for disconcerting details that resonate with ugly truth." —Calgary Straight

"In her portraits of Dallaire and Mackenzie, Off has written a pair of biographies that bring to mind Suetonius's lives of Nicias and Alcibiades — the ancient Roman's portraits of two brilliant but contrary generals, one good, but maligned, the other as famous as he was duplicitous. These are shocking and instructive moral studies of what it can cost a man to be involved…We learn from [this book] that the work of peacekeeping is not derived from some neat and formulaic model that is universally applicable. It cannot be grafted onto a hostile landscape and it requires historical knowledge. It cannot be applied halfheartedly." —Noah Richler, National Post

"This is an explosive look at what really happened in the failed peacekeeping missions in Sarajevo and Rwanda." —Ottawa Citizen
Advertisement