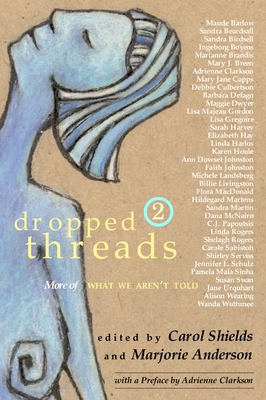 Dropped Threads 2 (Paperback)
More of What We Aren't Told
Vintage Canada, 9780679312062, 400pp.
Publication Date: April 8, 2003
* Individual store prices may vary.
Description
The idea for Dropped Threads: What We Aren't Told came up between Carol Shields and longtime friend Marjorie Anderson over lunch. It appeared that after decades of feminism, the "women's network" still wasn't able to prevent women being caught off-guard by life. There remained subjects women just didn't talk about, or felt they couldn't talk about. Holes existed in the fabric of women's discourse, and they needed examining.

They asked thirty-four women to write about moments in life that had taken them by surprise or experiences that received too little discussion, and then they compiled these pieces into a book. It became an instant number one bestseller, a book clubs' favourite and a runaway success. Dropped Threads, says Anderson, "tapped into a powerful need to share personal stories about life's defining moments of surprise and silence." Readers recognized themselves in these honest and intimate stories; there was something universal in these deeply personal accounts. Other stories and suggestions poured in. Dropped Threads would clearly be an ongoing project.

Like the first volume, Dropped Threads 2 features stories by well-known novelists and journalists such as Jane Urquhart, Susan Swan and Shelagh Rogers, but also many excellent new writers including teachers, mothers, a civil servant, a therapist. This triumphant follow-up received a starred first review in Quill and Quire magazine, which called it "compassionate and unflinching." The book deals with such difficult topics as loss, depression, disease, widowhood, violence, and coming to terms with death. Several stories address some of the darker sides of motherhood:

- A mother describes how, while sleep-deprived and in a miserable marriage, she is shocked to find infanticide crossing her mind.
- Another woman recounts a memory of her alcoholic mother demanding the children prove their loyalty in a terrifying way.
- A woman desperate for children refers to the bleak truth as: "Another Christmas of feeling barren." Narrating the fertility treatment she undergoes, the hopes dashed, she is amusing in retrospect and yet brutally honest.

While they deal with loss and trauma, the pieces show the path to some kind of acceptance, showing the authors' determination to learn from pain and pass on the wisdom gained. The volume also covers the rewards of learning to be a parent, choosing to remain single, or fitting in as a lesbian parent. It explores how women feel when something is missing in a friendship, how they experience discrimination, relationship challenges, and other emotions less easily defined but just as close to the bone:

- Alison Wearing in "My Life as a Shadow" subtly describes allowing her personality to be subsumed by her boyfriend's.
- Pamela Mala Sinha tells how, after suffering a brutal attack, she felt self-hatred and a longing for retribution.
- Dana McNairn talks of her uncomfortable marriage to a man from a different social background: "I wanted to fit in with this strange, wondrous family who never raised their voices, never swore and never threw things at one another."

Humour, a confiding tone, and beautiful writing elevate and enliven even the darkest stories. Details bring scenes vividly to life, so we feel we are in the room with Barbara Defago when the doctor tells her she has breast cancer, coolly dividing her life into a 'before and after.' Lucid, reflective and poignant, Dropped Threads 2 is for anyone interested in women's true stories.
About the Author
Carol Shields used to rummage in antique shops for photographs of long-forgotten women. She is "fascinated by the lives of the overlooked," says the Calgary Herald, and her novels reveal a passion for the simple pleasures of everyday working lives. She says, "I like attention paid to the details that sustain us."

She was born in a suburb of Chicago in 1935, third child of a candy factory manager and a teacher, and had a happy childhood. She met her Canadian husband on a college exchange program in England. After having five children and being what she calls a "typical" 1950s housewife, she "took a master's degree, got involved in left-wing politics, learned French and gradually woke up." As she turned 40, her graduate thesis was accepted for publication along with her first novel, Small Ceremonies.

Her work gained international recognition with her fifth novel, Swann. She won the Pulitzer Prize and the National Book Critics Circle Award for her 1993 novel The Stone Diaries (also short-listed for the Booker Prize), and the Orange Prize in 1996 for Larry's Party. Her latest novel Unless has stayed on the bestseller list since publication in spring 2002; it was nominated for the Booker Prize, the Giller Prize, the Governor General's Literary Award and the Commonwealth Writers Prize for Best Book (Canada and Caribbean). She is the author of over twenty books, including poetry, essays and a recent biography of Jane Austen. Her work has been translated into twenty-two languages around the world.

Shields learned she has Stage-3 breast cancer in 1998. An experimental treatment gave her an unexpected lease of life, during which she wrote the novel Unless. She worked her own pain into the fictional story of a woman who watches her daughter abandon her university studies to beg on the street. Carol Shields passed away in July 2003.

Marjorie Anderson met Carol Shields in the 1980s when both were teaching at the University of Manitoba. She is the seventh of eight children born to Asdis and Thorsteinn Anderson, Icelandic-Canadian fishers, farmers and storytellers from the hamlet of Libau on the edges of Lake Winnipeg.

She has a PhD in literature and taught for seven years in the English department at the University of Manitoba before moving to the School of Business, where she became director of the communications programs for commerce and MBA students. She was awarded the university's Achievement Award for Excellence in Teaching, and has taught in international programs. She recently gave up full-time teaching to spend more time on literary projects and continues to run a communication consultancy for academic and corporate clients.

She and her husband live in Winnipeg and enjoy spending time with their four daughters and several grandchildren. Anderson's lifelong interest in writing and storytelling, and her involvement in editing and teaching over two decades, made the task of editing Dropped Threads and Dropped Threads 2 a comfortable one. She describes her collaboration with her friend Carol Shields as a great pleasure.
Praise For Dropped Threads 2: More of What We Aren't Told…
Praise for Dropped Threads:

"There are exciting and truly intimate entries in this book…these women take ideas even secret ones, and infuse them with poetry, scoured and buffed sentences and …stopwatch comic timing…The true depth of the collection is found in these women's clear memories and their willingness to share." -- Quill & Quire

"It's a collection of revealing essays and short stories by 35 Canadian women at mid-life and beyond, reflecting on the life events that caught them off guard and, somehow, haven't been talked about…As it turns out, there are many dropped threads in our lives. Weave them together and you've got a tapestry."-- Bonnie Schiedel, Chatelaine, April 2001

"Dropped Threads … is a collection of 34 pieces by Canadian women in which they describe…everything they never said or were not able to say before, but which had tremendous power in their lives…[Senator Sharon Carstairs's] essay about women in politics [is] clear-eyed and devastating …Miriam Toews examines her father's lifelong battle with depression, which culminated in his suicide … with gentleness and insight … These are all the conversations we would wish to have with friends and these essays stimulate the sense of exuberance and relief that one always feels after a long, self-revelatory talk." -- Virginia Beaton, Halifax Chronicle-Herald, 25 Feb 2001

"Dropped Threads is a much-awaited anthology of essays and stories by Canadian women, including celebrated writers as well as women who are neither writers nor famous … The angst of the women in Dropped Threads covers a wide spectrum." -- Paul Gessell, Ottawa Citizen, 20 Jan 2001

"If the value of books were measured by the insights stored within their pages, Dropped Threads would be priceless…[This] is a wonderfully well-written and excellently edited book that offers such intimate insights that it sometimes seems like a stream of consciousness. The compositions frequently make the reader feel like an eavesdropper -- and an extremely entertained one at that…The stories in Dropped Threads cathartically tie up loose ends for their writers, while providing readers with an exquisitely crafted patchwork quilt of life experiences." -- Winnipeg Free Press
or
Not Currently Available for Direct Purchase