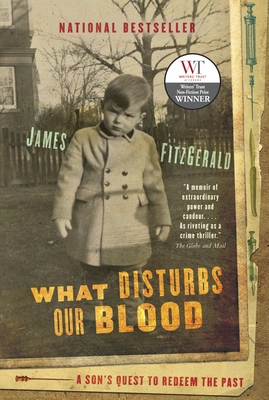 What Disturbs Our Blood: A Son's Quest to Redeem the Past (Paperback)
A Son's Quest to Redeem the Past
Vintage Books Canada, 9780679313168, 512pp.
Publication Date: January 3, 2012
* Individual store prices may vary.
or
Not Currently Available for Direct Purchase
Description
A rich, unmined piece of Canadian history, an intense psychological drama, a mystery to be solved and a hardwon escape from a family curse
Like his friends Banting and Best, Dr. John Fitzgerald was a Canadian hero. He founded Connaught Labs, saved untold lives with his vaccines and transformed the idea of public health in Canada and the world. What so darkened his reputation that his memory has been all but erased?
A sensitive, withdrawn boy is born into the gothic house of his long dead grandfather, a brilliant yet tormented pathologist of Irish blood and epic accomplishment whose memory has been mysteriously erased from public consciousness. As the boy watches his own father - also an eminent doctor - plunge into a suicidal psychosis, he intuits, as the psychiatrists do not, some unspeakable secret buried like a tumour deep in the multi-generational layers of the family unconscious. Growing into manhood, he knows in his bones that he must stalk an ancient curse before it stalks him. To set himself free, he must break the silence and put words to the page. His future lies in the past.
About the Author
JAMES FITZGERALD is a journalist and author whose first book, Old Boys: The Powerful Legacy of Upper Canada College," "was a controversial inside look at the attitudes and mores of Canada's ruling class. Revelations of the sexual abuse of boys at the school, first published in the book, led to the charging and conviction of two former teachers and the launching of a class action lawsuit against the college in 2002. The article that sparked What Disturbs Our Blood won a National Magazine Award. "From the Hardcover edition."
Praise For What Disturbs Our Blood: A Son's Quest to Redeem the Past…
WINNER 2012 – Donald Grant Creighton Award from the Ontario Historical Society
NOMINEE 2011 – Toronto Book Awards


"A brave and compelling journey into the world of mental illness, and a riveting look at the father-son divides in a family of talented overachievers. . . . FitzGerald manages to tie in important Canadian medical discoveries, two world wars, and the history of Ireland in an ambitious, yet riveting narrative. In heartfelt, lively, and meticulously researched prose, he links the personal to the political."
—Writers' Trust of Canada Non-Fiction Prize jury citation
 
"The emotional chilliness of early twentieth-century Toronto is blended with a tragic story of brilliant scientists and physicians doomed to madness, in journalist James FitzGerald's memoir, What Disturbs Our Blood. . . . Never maudlin or melodramatic, FitzGerald's book is a masterpiece of its genre, the chronicle of family secrets unearthed and healing attained."
—BC National Award for Canadian Non-Fiction jury citation
 
 "A memoir of extraordinary power and candour. . . . This book is as riveting as a crime thriller. . . . Every writer has one great story to tell. This is James FitzGerald's story."
—Patricia Pearson, The Globe and Mail
 
"What Disturbs Our Blood is beautifully orchestrated. . . . It's a roaring cumulative set-piece, a pageant of hectoring souls. . . . A fascinating, multi-layered history of 20th-century medicine and . . . a passionate inquiry into a family's tragedies. It's a banshee of a book."
—National Post

"An ambitious book. . . . Fitzgerald accomplishes a masterful retelling of Canada's medical history, while rehabilitating his family's reputation and restoring his own sense of belonging and mental health. Not many books reach for and grasp so much."
—Telegraph-Journal
 
"What Disturbs Our Blood certainly disturbed mine in many ways, and I thought it was magnificent. I see our country and our city with very different eyes, not to mention our national medical heroes . . . I found potent resonances on every page." 
—David Cronenberg, film director
 
"A powerfully written, emotionally authentic and intellectually satisfying account of addiction and mental illness in a prominent Canadian medical family. A gripping read, due to the writerly skill and unflinching honesty of the author, and his commitment to uncovering dark secrets hidden behind blue blood respectability and high professional achievement." 
—Gabor Maté, M.D., author of In the Realm of Hungry Ghosts: Close Encounters with Addiction
 
"A remarkable narrative of striving, depression, madness, suicide, and survival in a family connected with some of Canada's greatest twentieth-century medical achievements. It is compelling reading, difficult to put down. . . . It deserves a wide readership. When you finish the book you have learned a lot and you have been put through an emotional wringer." 
—Michael Bliss, Professor Emeritus, University of Toronto, Canadian Bulletin of Medical History
Advertisement