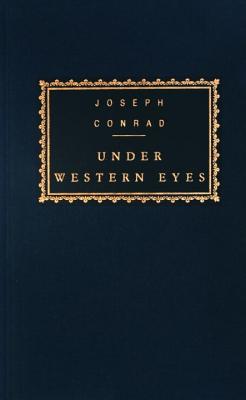 Under Western Eyes (Hardcover)
Everyman's Library, 9780679405542, 477pp.
Publication Date: November 26, 1991
* Individual store prices may vary.
or
Not Currently Available for Direct Purchase
Description
Describes a band of frustrated revolutionary exiles in Geneva. This book is a study of individuals under pressure, and it remains a telling account of the fugitive life - especially in its portrait of Razumov, heir to the long line of Russian anti-heroes in Gogol, Dostoyevsky and Turgenev. In the first decade of the twentieth century, Conrad wrote three political novels that have had constant influence on the way we look at contemporary history. The third of these, Under Western Eyes, is the eternally pertinent story of Russian radicals exiled in Geneva, those who spy on them, and the iron links that chain them to each other and to their motherland. Introduction by Cedric Watts (Book Jacket Status: Not Jacketed)
About the Author
Joseph Conrad, christened Josef Teodor Konrad, Nalecz Korzeniowski, was born on December 3, 1857, in a part of Russia that had once belonged to Poland. His parents were members of the landed gentry, but as ardent Polish patriots, the suffered considerably for their political views. Orphaned at eleven, Conrad attended school for a few years in Cracow, He soon concluded, however, that there was no future for a Pole in occupied Poland, and at sixteen he left his ancestral home forever. The sea was Conrad's love and career for the next twenty years. In the French merchant marine, he sailed to the West. Indies, smuggled guns to Spanish rebels, ran into debt, and bungled a suicide attempt Then in the British merchant navy, he rose to first mate and finally to captain, sailing to Australia and Borneo and surviving at least one shipwreck. In 1890 he contracted to become captain of a Congo River steamer, but the six months he spent in Africa led only to disillusionment and ill health; this episode would become the basis for Conrad's masterpiece, Heart of Darkness. Reluctantly leaving the merchant service, he settled in England and completed his first novel, Almayer's Folly, already begun at sea. Hi subsequent works, many of which drew upon his sea experiences, include The Nigger of the "Narcissus" (1897), Lord Jim (1900), Heart of Darkness (1902), Youth (1902) Typhoon (1903), Nastromo (1904), The Secret Agent (1907), The Secret Sharer (1910), Under the Western Eyes (1911), and Chance (1913). The man who was twenty-one years old before he spoke a word of English is now regarded as one of the superb English stylists of all time. Conrad died almost literally on his desk in 1924, at the age of sixty-six.
Advertisement