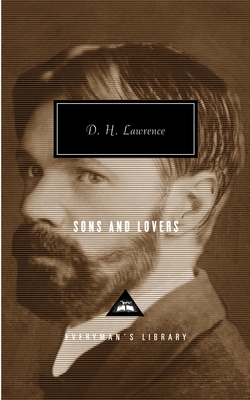 Sons and Lovers (Hardcover)
Everyman's Library, 9780679405726, 432pp.
Publication Date: November 26, 1991
Description
(Book Jacket Status: Jacketed)Introduction by David EllisThe struggle for power at the heart of a family in conflict, the mysteries of sexual initiation, and the pain of irretrievable loss are the universal motifs with which D. H. Lawrence fashions one of the world's most original autobiographical novels.Gertrude Morel is a refined woman who married beneath her and has come to loathe her brutal, working-class husband. She focuses her passion instead on her two sons, who return her love and despise their father. Trouble begins when Paul Morel, a budding artist, falls in love with a young woman who seems capable of rivaling his mother for possession of his soul. In the ensuing battle, he finds his path to adulthood tragically impeded by the enduring power of his mother's grasp. Published on the eve of World War I, SONS AND LOVERS confirmed Lawrence's genius and inaugurated the controversy over his explicit writing about sexuality and human relationships that would follow him to the end of his career.
About the Author
D. H. Lawrence was born on September 11, 1885, in Eastwood, Nottinghamshire, England. His father was a coal miner, his mother a former lace worker and unsuccessful haberdasher. He began school justbefore the age of four, but respiratory illness and a weak constitution forced him to remain home intermittently. Two months before his sixteenth birthday, he went to work as a clerk in a badly ventilated factorythat made medical supplies, and eventually contracted pneumonia. After a long convalescence, he got a job as a student teacher, but privately he resolved to become a poet. He began writing seriously in 1906and entered University College, Nottingham, to earn his teacher's certificate. Two years later he started teaching elementary school full-time. He published his first poems in the English Review in 1909. Whenhe contracted pneumonia a second time, he gave up teaching. His first two novels, The White Peacock and The Trespasser, were published in 1911 and 1912. About three weeks after the publication of The Trespasser, he left England with Frieda Weekley, nee vonRichthofen, the German wife of Ernest Weekley, a British linguist who had been his French and German instructor at University College. He wrote the final version of his autobiographical novel Sons andLovers (1913) - begun when his mother was dying of cancer in 1910 - during his year-long courtship of Frieda in Germany and Italy. Sons and Lovers was immediately recognized as the first great modernrestatement of the Oedipal drama, but, like most of Lawrence's novels during his lifetime, sold poorly. Lawrence and Frieda married in London in July 1914, immediately after Frieda's divorce became final;they lived peripatetically and in relative poverty. They spent World War I in England, a country they both essentially disliked, and endured a series of clumsy surveillance and harassment campaigns by local police because of her nationality (several of herrelatives were diplomats, statesmen, and politicians, and she was a cousin of Manfred von Richthofen, the "Red Baron") and his apparent lack of patriotism (among other charges, The Prussian Officer, acollection of stories, published in November 1914, several months after Great Britain entered the war, was considered politically and morally offensive by conservative booksellers). Exempt from active servicebecause of his health, Lawrence wrote The Rainbow and Women in Love. The former was seized and burned by the police for indecency in November 1915, two months after publication; Lawrence wasunable to find a publisher for the latter until six years later. Composition of these two novels coincided with bouts of erratic behavior in Lawrence that bordered on mental instability, sexual confusion andexperimentation that threatened to undermine his marriage, and endless health reversals, including a diagnosis of tuberculosis. Twilight in Italy, a collection of acerbic travel essays believed by some to show asympathy for fascism that became more explicit in, for example, his novel The Plumed Serpent (1926), was published in 1916. He recorded the vicissitudes of his marriage in an autobiographical poem cycle, Look! We Have Come Through (1917). The Lawrences departed for Europe in late 1919 and spent most of the next two years in Italy and Germany. The Lost Girl, a novel, was published in 1920 and received the James Tait Black Memorial Prizethe following year, which also saw the publication of Movements in European History, a text for schoolchildren; Psychoanalysis and the Unconscious, an anti-Freudian tract; Tortoises, a collection ofpoems; Sea and Sardinia, a travel book; and, belatedly, Women in Love. Early in 1922 he and Frieda went around the world by boat. They visited Ceylon, lived in Australia for a month and a half, and in thesummer sailed to America, where they settled in New Mexico. Aaron's Rod, a novel; Fantasia of the Unconscious, a sequel to Psychoanalysis and the Unconscious; and England, My England, a collectionof stories, were published that year. In the spring of 1923, after moving to Mexico, he and Frieda separated temporarily. He toured the western United States and briefly returned to Mexico; she moved toLondon. Kangaroo, his novel of Australia, and Birds, Beasts, and Flowers, a collection of poems, were published in the fall. He reunited with Frieda in the winter. They went to New Mexico again in thespring of 1924; he suffered bouts of influenza, malaria, and typhoid fever the next year. The Lawrences eventually resettled in Italy in 1926. He began writing his last novel, Lady Chatterley's Lover, in 1926. It was published two years later and banned in England and the United States as pornographic. Lawrence was an avid amateur painter, and aselection of his paintings - grossly rendered, full-figured representational nudes - was exhibited in London in 1929. The show was raided on July 5 by the police, who removed thirteen of the canvases.Lawrence coincidentally suffered a violent tubercular hemorrhage in Italy the same day. He went to Bavaria to undergo a cure - it was unsuccessful - and in 1930 entered a sanatorium in Vence, France, wheretreatment similarly failed. He died in a villa in Vence on the night of March 2, a half year short of his forty-fifth birthday, and was buried in a local cemetery. His body was eventually disinterred and cremated, and his ashes transported to Frieda Lawrence's ranch outside Taos, New Mexico. In addition to numerous plays, collections of poetry, and other, lesser-known works published during his lifetime, his novelsThe Virgin and the Gypsy and Mr. Noon were published posthumously.
Praise For Sons and Lovers…
The Modern Library of the World's Best Books

"No other writer with his imaginative standing has in our time written books that are so open to life."

-- Alfred Kazin

"There is no novel in english literature which comes so close to the skin of life of working class people, for it records their feelings in their own terms."

-- V. S. Pritchett
Advertisement