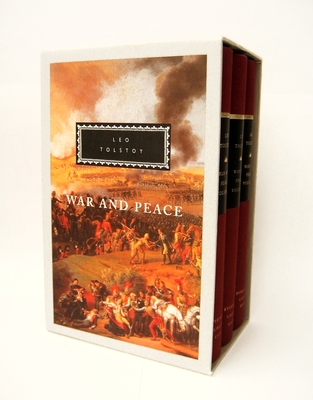 War and Peace: 3-Volume Boxed Set (Boxed Set)
3-Volume Boxed Set
Everyman's Library, 9780679405733, 600pp.
Publication Date: December 7, 1992
Description
Three-Volume Boxed Set
Translated by Louise and Aylmer Maude
War and Peace
broadly focuses on Napoleon's invasion of Russia in 1812 and follows three of the most well-known characters in literature: Pierre Bezukhov, the illegitimate son of a count who is fighting for his inheritance and yearning for spiritual fulfillment; Prince Andrei Bolkonsky, who leaves his family behind to fight in the war against Napoleon; and Natasha Rostov, the beautiful young daughter of a nobleman who intrigues both men. As Napoleon's army invades, Tolstoy brilliantly follows characters from diverse backgrounds--peasants and nobility, civilians and soldiers--as they struggle with the problems unique to their era, their history, and their culture. And as the novel progresses, these characters transcend their specificity, becoming some of the most moving--and human--figures in world literature. (Book Jacket Status: Not Jacketed)
About the Author
Count Leo Tolstoy (1828-1910) was born in central Russia. After serving in the Crimean War, he retired to his estate and devoted himself to writing, farming, and raising his large family. His novels and outspoken social polemics brought him world fame. Aylmer Maude (1858-1938) and Louise Maude (1855-1939) were English translators of Tolstoy's works, and Aylmer Maude also wrote his friend Tolstoy's biography. After living many years in Russia the Maudes spent the rest of their life in England translating Tolstoy's writing and promoting public interest in his work.
Praise For War and Peace: 3-Volume Boxed Set…
"There remains the greatest of all novelists—for what else can we call the author of War and Peace?" —Virginia Woolf
Advertisement