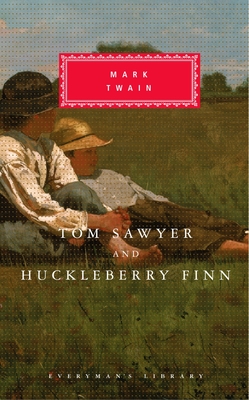 Tom Sawyer and Huckleberry Finn (Hardcover)
Everyman's Library, 9780679405849, 600pp.
Publication Date: November 26, 1991
Description
Along with Blake and Dickens, Mark Twain was one of the nineteenth century's greatest chroniclers of childhood. These two novels reveal different aspects of his genius: Tom Sawyer is a much-loved story about the sheer pleasure of being a boy; Huckleberry Finn, the book Hemingway said was the source of all the American fiction that followed it, is both a hilarious account of an incorrigible truant and a tremendous parable of innocence in conflict with the fallen adult world.

About the Author
Mark Twain, born Samuel Langhorne Clemens in 1835, led one of the most exciting of literary lives. Raised in the river town of Hannibal, Missouri, Twain had to leave school at age 12 and was successively a journeyman printer, a steamboat pilot, a halfhearted Confederate soldier, and a prospector, miner, and reporter in the western territories. His experiences furnished him with a wide knowledge of humanity, as well as with the perfect grasp of local customs and speech which manifests itself in his writing. With the publication in 1865 ofThe Celebrated Jumping Frog of Calaveras County, Twain gained national attention as a frontier humorist, and the bestselling Innocents Abroad solidified his fame. But it wasn't untilLife on the Mississippi(1883), and finally, The Adventures of Huckleberry Finn(1885), that he was recognized by the literary establishment as one of the greatest writers America would ever produce. Toward the end of his life, plagued by personal tragedy and financial failure, Twain grew more and more pessimistic an outlook not alleviated by his natural skepticism and sarcasm. Though his fame continued to widen Yale & Oxford awarded him honorary degrees Twain spent his last years in gloom and exasperation, writing fables about "the damned human race."
Praise For Tom Sawyer and Huckleberry Finn…
"All modern American literature comes from one book by Mark Twain called Huckleberry Finn . . . All American writing comes from that. There was nothing before. There has been nothing as good since." –Ernest Hemingway

"As characters Tom and Huck have become American myths (a form of transubstantiation achieved by remarkably few fictional creations in the last hundred years), and that very fact indicates that whatever distinctions are made between the two novels, and however many reservations are cited about either or both, Twain possessed extraordinary imaginative power." –from the Introduction by Miles Donald
Advertisement