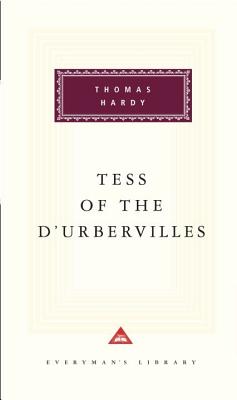 Tess of the D'Urbervilles (Hardcover)
Everyman's Library, 9780679405863, 522pp.
Publication Date: November 26, 1991
Description
Set in the magical Wessex landscape so familiar from Thomas Hardy's early work, Tess of the D'Urbervilles is unique among his great novels for the intense feeling that he lavished upon his heroine, Tess, a pure woman betrayed by love.
Hardy poured all of his profound empathy for both humanity and the rhythms of natural life into this story of her beauty, goodness, and tragic fate. In so doing, he created a character who, like Emma Bovary and Anna Karenina, has achieved classic stature. (Book Jacket Status: Not Jacketed)
About the Author
Thomas Hardy (1840-1928) was born in Dorset, England, son of a stonemason. Though a gifted student, he was unable to afford to attend university. He was apprenticed to an architect at age sixteen and worked in London for several years before returning to Dorset and dedicating himself to writing novels and poems.
Praise For Tess of the D'Urbervilles…
"[Tess of the D'Urbervilles is] Hardy's finest, most complex and most notorious novel . . . The novel is not a mere plea for compassion for the eternal victim, though that is the banner it flies. It also involves a profound questioning of contemporary morality." –from the Introduction by Patricia Ingham
Advertisement