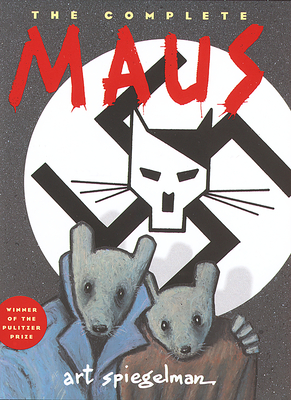 The Complete Maus
A Survivor's Tale (Pantheon Graphic Library)
Hardcover

* Individual store prices may vary.
Description
THE DEFINITIVE EDITION: The Pulitzer Prize-winning graphic novel acclaimed as "the most affecting and successful narrative ever done about the Holocaust" (Wall Street Journal) and "the first masterpiece in comic book history" (The New Yorker).

A brutally moving work of art—widely hailed as the greatest graphic novel ever written—Maus recounts the chilling experiences of the author's father during the Holocaust, with Jews drawn as wide-eyed mice and Nazis as menacing cats. 

Maus is a haunting tale within a tale, weaving the author's account of his tortured relationship with his aging father into an astonishing retelling of one of history's most unspeakable tragedies. It is an unforgettable story of survival and a disarming look at the legacy of trauma.
Praise For The Complete Maus: A Survivor's Tale (Pantheon Graphic Library)…
"A loving documentary and brutal fable, a mix of compassion and stoicism [that] sums up the experience of the Holocaust with as much power and as little pretension as any other work I can think of."
–The New Republic

"A quiet triumph, moving and simple–impossible to describe accurately, and impossible to achieve in any medium but comics."
–The Washington Post

"Spiegelman has turned the exuberant fantasy of comics inside out by giving us the most incredible fantasy in comics' history: something that actually occurred…. The central relationship is not that of cat and mouse, but that of Art and Vladek. Maus is terrifying not for its brutality, but for its tenderness and guilt."
–The New Yorker

"All too infrequently, a book comes along that's as daring as it is acclaimed. Art Spiegelman's Maus is just such a book."
–Esquire

"An epic story told in tiny pictures."
–The New York Times

"A remarkable work, awesome in its conception and execution… at one and the same time a novel, a documentary, a memoir, and a comic book. Brilliant, just brilliant."
–Jules Feffer
Pantheon, 9780679406419, 296pp.
Publication Date: November 19, 1996
About the Author
Art Spiegelman is a contributing editor and artist for The New Yorker, and a co-founder / editor of Raw, the acclaimed magazine of avant-garde comics and graphics. His drawings and prints have been exhibited in museums and galleries here and abroad. Honors he has received for Maus include the Pulitzer Prize, a Guggenheim fellowship, and nominations for the National Book Critics Circle Award. He lives in New York City with his wife, Françoise Mouly, and their two children, Nadja and Dashiell.