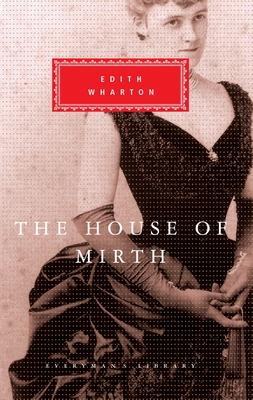 The House of Mirth (Everyman's Library Classics Series) (Hardcover)
Everyman's Library, 9780679406679, 400pp.
Publication Date: November 26, 1991
Other Editions of This Title:
Paperback (1/20/2006)
Paperback (1/5/2016)
Paperback (3/6/2014)
Paperback (7/18/2019)
Paperback (6/22/2016)
Paperback (9/23/2007)
Paperback (7/30/2008)
Paperback (8/19/2015)
Paperback (7/17/2013)
Paperback (10/10/2018)
Paperback (6/28/2016)
Paperback (9/1/2014)
Paperback (2/3/2014)
Paperback (7/30/2008)
Paperback (5/22/2018)
* Individual store prices may vary.
Description
In The House of Mirth, Edith Wharton depicts the glittering salons of Gilded Age New York with precision and wit, even as she movingly portrays the obstacles that impeded women's choices at the turn of the century.
The beautiful, much-desired Lily Bart has been raised to be one of the perfect wives of the wealthy upper class, but her spark of character and independent drive prevents her from becoming one of the many women who will succeed in those circles. Though her desire for a comfortable life means that she cannot marry for love without money, her resistance to the rules of the social elite endangers her many marriage proposals. As Lily spirals down into debt and dishonor, her story takes on the resonance of classic tragedy. One of Wharton's most bracing and nuanced portraits of the life of women in a hostile, highly ordered world, The House of Mirth exposes the truths about American high society that its denizens most wished to deny. With an introduction by Pamela Knights.
About the Author
Edith Wharton was born into a privileged New York family in 1862 and died in France in 1937. In addition to her works as a novelist, most famously The House of Mirth, The Age of Innocence, The Custom of the Country, and Ethan Frome, she also was a renowned interior designer, and was the first woman to win the Pulitzer Prize for Fiction.
Praise For The House of Mirth (Everyman's Library Classics Series)…
"A tragedy of our modern life, in which the relentlessness of what men used to call Fate and esteem…. is as vividly set forth as ever it was by Aeschylus or Shakespeare."
—The New York Times

"Uniquely authentic among American novels of manners."
—Louis Auchincloss

"Brilliant….[Lily Bart] is a grand tragic heroine, fit to take center stage with Manon or Emma Bovary, Gwendolen Harleth or Tess of the D'Urbervilles, Anna Karenina or Isabel Archer."
—Hermione Lee