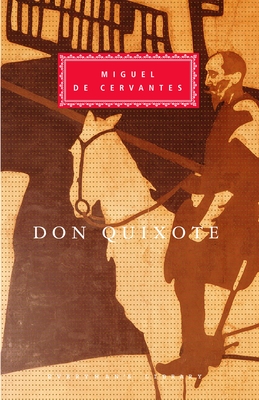 Don Quixote (Hardcover)
Everyman's Library, 9780679407584, 1104pp.
Publication Date: October 15, 1991
Description
(Book Jacket Status: Jacketed)Our ceaseless human quest for something larger than ourselves has never been represented with more insight and love than in this story of Don Quixote pursuing his vision of glory in a ?mercantile age and his shrewd, skeptical man?servant, Sancho Panza. As they set out to right the world's wrongs in knightly combat, the narrative moves from philosophical speculation to broad comedy, taking in pastoral, farce, and fantasy on the way. The first and still the greatest of all European novels, Don Quixote has been as important for the modern world as the poems of Homer were for the ancients.Translated by P. A. Motteux.
About the Author
Miguel De Cervantes (1547-1616)was born to a poor family in the town of Alcala de Henares in Spain. After being educated in Madrid (where he was his schoolmaster's 'most beloved pupil') he went to Italy where it was not long before he volunteered for the army. Cervantes took part in the great naval battle of Lepanto (1571), when the Christian powers led by the Venetians defeated the Turks in the eastern Mediterranean. As a result he was wounded in the left hand which rendered it useless and earned him the title 'El Manco de Lepanto'. In 1575, while returning to Spain from another military expedition, he was captured by pirates and taken to Algiers as a prisoner. His captivity lasted for five long years during which he made repeated efforts to escape, firmly believing that 'one should risk one's life for honour and liberty'. When Cervantes was finally ransomed he returned to Spain, not to a hero's welcome as he expected, but to find himself with no money and apparently no future. He turned to writing for his livelihood, drawing on his experiences in prison and as a soldier for his stories and plays. His early works brought neither wealth nor fame but when the first part ofDon Quixotewas published in 1605 it proved to be an instant success. Translated into English in 1612 it has been one of the world's most popular and influential books ever since. Even with this, however, and the second part which was published in 1614, Cervantes did not become a rich man, but he did obtain for himself a patron and was thereafter able to devote himself fully to his writings.______ Miguel De Cervantes(1547-1616) nacio en el seno de una familia pobre en el pueblo de Alcala de Henares, en Espana. Tras ser educado en Madrid (donde fue el pupilo preferido de su profesor) partio a Italia, donde pronto se enlisto de manera voluntaria en la armada. Cervantes participo en la gran batalla naval de Lepanto (1571), cuando los Cristianos lidereados por los venecianos derrotaron a los turcos al este del Mediterraneo. Esta batalla le dejo una mano herida que nunca recupero total movilidad, por lo que Cervantes obtuvo el mote de'El Manco de Lepanto'. En 1575, al volver a Espana tras otra expedicion militar, fue capturado por piratas y llevado a Algeria como prisionero. Permanecio en cautiverio durante cinco largos anos, tiempo en el que intento escapar varias veces con la ferviente creencia de que "uno debiera arriesgar la vida por el honor y la libertad." Cuando finalmente fue rescatado, Cervantes volvio a Espana no como para ser recibido como heroe, sino a enfrentarse a una vida sin dinero y, aparentemente, sin futuro. Se volco a la escritura para poder sobrevivir, convirtiendo sus experiencias en el ejercito y prision en relatos y obras de teatro. Sus primeras obras no le trajeron fama ni fortuna, pero cuando la primera parte deDon Quijotefue publicada en 1605, obtuvo un exito inmediato. Traducida al ingles en 1612, el Quijote ha sido uno de los libros mas populares e icnonicos en el mundo. A pesar del exito, y de la publicacion de la segunda parte de la novela en 1614, Cervantes no se convirtio en un hombre rico, pero si logro conseguir un mecenas que le permito dedicar su vida a la escritura."
Praise For Don Quixote…
"A more profound and powerful work than this is not to be met with…[It is] the final and greatest utterance of the human mind." –Fyodor Dostoevsky

"It can be said that all prose fiction is a variation on the theme of Don Quixote." –Lionel Trilling

"[Don Quixote is] the first and best of all novels, which nevertheless is more than a novel." –Harold Bloom

"When Don Quixote went out into the world, that world turned into a mystery before his eyes. That is the legacy of the first European novel to the entire subsequent history of the novel. The novelist teaches its reader to
comprehend the world as a question." –Milan Kundera
Advertisement