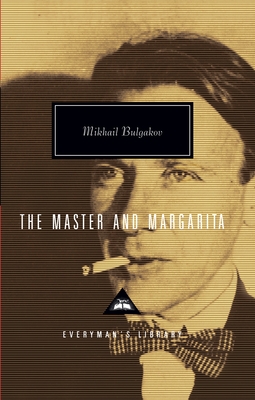 The Master and Margarita (Everyman's Library Contemporary Classics Series) (Hardcover)
Everyman's Library, 9780679410461, 488pp.
Publication Date: April 28, 1992
Other Editions of This Title:
Digital Audiobook (7/24/2010)
Paperback, Russian (12/21/2015)
Paperback, Russian (3/2/2015)
Paperback (5/3/2016)
Paperback (1/13/1994)
Paperback (1/1/2001)
Paperback (3/19/1996)
Hardcover (1/30/2014)
Paperback (4/1/2005)
Paperback (2/1/2008)
Compact Disc (7/1/2010)
Other (2/1/2013)
Paperback (9/1/2010)
Paperback (2/1/2011)
MP3 CD (5/3/2016)
Paperback (4/1/2009)
* Individual store prices may vary.
Description
The underground masterpiece of twentieth-century Russian fiction, Mikhail Bulgakov's THE MASTER AND MARGARITA was written during Stalin's regime and could not be published until many years after its author's death.
When the devil arrives in 1930s Moscow, consorting with a retinue of odd associates—including a talking black cat, an assassin, and a beautiful naked witch—his antics wreak havoc among the literary elite of the world capital of atheism. Meanwhile, the Master, author of an unpublished novel about Jesus and Pontius Pilate, languishes in despair in a pyschiatric hospital, while his devoted lover, Margarita, decides to sell her soul to save him. As Bulgakov's dazzlingly exuberant narrative weaves back and forth between Moscow and ancient Jerusalem, studded with scenes ranging from a giddy Satanic ball to the murder of Judas in Gethsemane, Margarita's enduring love for the Master joins the strands of plot across space and time.
About the Author
Mikhail Bulgakov (1891-1940) was born and educated in Kiev where he graduated as a doctor in 1916. He rapidly abandoned medicine to write some of the greatest Russian literature of this century. He died impoverished and blind in 1940 shortly after completing his masterpiece, The Master and Margarita.
Praise For The Master and Margarita (Everyman's Library Contemporary Classics Series)…
"One of the truly great Russian novels of [the twentieth] century." —NEW YORK TIMES BOOK REVIEW"The book is by turns hilarious, mysterious, contemplative, and poignant . . . A great work."—CHICAGO TRIBUNE"Bulgakov's The Master and Margarita is a soaring, dazzling novel; an extraordinary fusion of wildly disparate elements. It is a concerto played simultaneously on the organ, the bagpipes, and a pennywhistle, while someone sets off fireworks between the players' feet."—NEW YORK TIMES"Fine, funny, imaginative . . . The Master and Margarita stands squarely in the great Gogolesque tradition of satiric narrative."—NEWSWEEK "A wild surrealistic romp . . . Brilliantly flamboyant and outrageous."—Joyce Carol Oates"Sparkling, enchanting, funny, deeply serious and sometimes baffling . . . [The Master and Margarita is] a liberating, exuberant social and political satire combined with a profound moral and political allegory . . . A bravura performance of truly heroic virtuosity, a carnival of the imagination." —from the Introduction by Simon Franklin