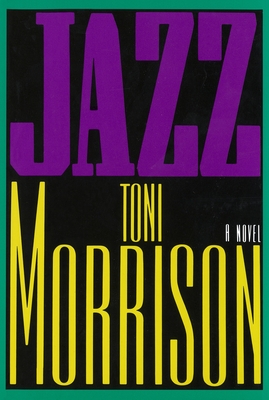 Jazz
Hardcover

* Individual store prices may vary.
Other Editions of This Title:
Digital Audiobook (3/9/2015)
Paperback (6/8/2004)
Paperback (3/19/1996)
Audio Cassette, Abridged, Abridged (4/7/1992)
Hardcover (4/1/1994)
Description
From Pulitzer Prize winner Toni Morrison, a novel that is spellbinding for the haunting passion of its profound love story, and for the bittersweet lyricism and refined sensuality of its powerful and elegant style.

It is winter, barely three days into 1926, seven years after Armistice; we are in the scintillating City, around Lenox Avenue, "when all the wars are over and there will never be another one...At last, at last, everything's ahead...Here comes the new. Look out. There goes the sad stuff. The bad stuff. The things-nobody-could-help stuff." But amid the euphoric decisiveness, a tragedy ensues among people who had train-danced into the City, from points south and west, in search of promise.

Joe Trace--in his fifties, door-to-door salesman of Cleopatra beauty products, erstwhile devoted husband--shoots to death his lover of three months, impetuous, eighteen-year-old Dorcas ("Everything was like a picture show to her"). At the funeral, his determined, hard-working wife, Violet, herself a hairdresser--who is given to stumbling into dark mental cracks, and who talks mostly to birds--tries with a knife to disfigure the corpse.

In a dazzling act of jazz-like improvisation, moving seamlessly in and out of past, present, and future, a mysterious voice--whose identity is a matter of each reader's imagination--weaves this brilliant fiction, at the same time showing how its blues are informed by the brutal exigencies of slavery. Richly combining history, legend, reminiscence, this voice captures as never before the ineffable mood, the complex humanity, of black urban life at a moment in our century we assumed we understood.

Jazz is an unprecedented and astonishing invention, a landmark on the American literary landscape--a novel unforgettable and for all time.
Praise For Jazz…
"Wonderful. . . . A brilliant, daring novel. . . . Every voice amazes." —Chicago Tribune

"She may be the last classic American writer, squarely in the tradition of Poe, Melville, Twain and Faulkner." —Newsweek

"[A] masterpiece. . . . She has moved from strength to strength until she has reached the distinction of being beyond comparison." —Entertainment Weekly

"Thrillingly written . . . seductive. . . . Some of the finest lyric passages ever written in a modern novel." —Chicago Sun-Times

"A compelling blend of heart and language. . . . Resounds with passion." —The Boston Globe

"Marvelous. . . . Morrison is perhaps the finest novelist of our time." —Vogue

"The author conjures up worlds with complete authority and makes no secret of her angst at the injustices dealt to black women." —Edna O'Brien, The New York Times Book Review

"She captures that almost indistinguishable mixture of the anxiety and rapture of expectation—that state of desire where sin is just another word for appetite." —San Francisco Chronicle

"As rich in themes and poetic images as her Pulitzer Prize–winning Beloved. . . . Morrison conjures up the hand of slavery on Harlem's jazz generation. The more you listen, the more you crave to hear." —Glamour

"She is the best writer in America. Jazz, for sure; but also Mozart." —John Leonard, National Public Radio

"A masterpiece. . . . A sensuous, haunting story of various kinds of passion. . . . Mesmerizing." —Cosmopolitan

"Lyrically brooding. . . . One accepts the characters of Jazz as generalized figures moving rhythmically in the narrator's mind." —The New York Times

"Transforms a familiar refrain of jilted love into a bold, sustaining time of self-knowledge and discovery. Its rhythms are infectious." —People


Knopf, 9780679411673, 240pp.
Publication Date: April 7, 1992
About the Author
Toni Morrison was born in Lorain, Ohio. She now divides her time between Rockland County, New York, and Princeton, New Jersey. She is Robert F. Goheen Professor, Council of the Humanities, Princeton University. She is the author of five other novels: The Bluest Eye, Sula, Song of Solomon, which won the 1978 National Book Critics Award for fiction, Tar Baby and Beloved, which won the 1988 Pulitzer Prize for fiction.
or
Not Currently Available for Direct Purchase