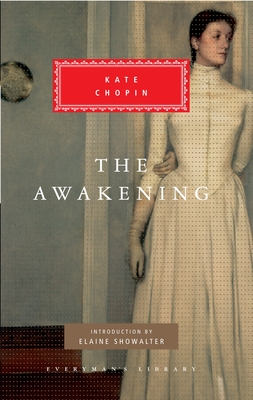 The Awakening (Everyman's Library Classics Series)
Hardcover

* Individual store prices may vary.
Other Editions of This Title:
Paperback (12/10/2010)
Paperback (1/20/2010)
Paperback (10/27/2009)
Paperback (2/2/2011)
Paperback (11/4/1993)
Paperback (8/11/2011)
Paperback, Large Print (10/27/2009)
Hardcover (11/10/2009)
Mass Market (2/10/1982)
Hardcover (11/10/2009)
Paperback (9/2/2011)
Paperback (8/19/2010)
Mass Market (4/1/1976)
Paperback (8/31/2010)
Paperback (6/28/2007)
MP3 CD (7/1/2005)
Description
Kate Chopin's riveting, daring story of one woman's search for personal freedom was so far ahead of its time that its publication in 1899 aroused a storm of controversy violent enough to end its author's career.  

With an effortless, sure-handed artistry, Chopin tells the story of Edna Pontellier, a young mother and model wife, whose romantic involvement with a young man during a vacation at a seaside resort allows her for the first time to imagine a new, freer life.  Upon her return to New Orleans, Edna leaves her husband's home for her own cottage and begins an affair, only to discover that the constraints of social custom may be more powerful than she thought.  Contemporary readers and reviewers were shocked by the frank, unapologetic treatment of adultery in The Awakening.  The fact that we have the book at all is the most convincing tribute to its enduring, irrepressible power. 

Introduction by Elaine Showalter

(Book Jacket Status: Not Jacketed)
Everyman's Library, 9780679417217, 272pp.
Publication Date: November 3, 1992
About the Author
Kate Chopin (1851-1904) did not begin to write until she was thirty-six years old. Up to that time, her life gave no hint of either literary talent or literary ambition. Yet after the publication of her first stories in 1889, she enjoyed ten years of a productive, serious, and fairly successful career. Her first novel, At Fault (1890), had difficulty finding a publisher, so she brought it out at her own expense and sent review copies to important journals. Her short stories—close to a hundred of them—were published for the most part in prestigious national magazines. They gave her a solid reputation as a gifted 'local color' writer—that is, an author specializing in the depiction of a particular region of the country and its inhabitants. From these many stories, she culled two well-reviewed collections: Bayou Folk in 1894 and A Night in Acadie in 1897. The Awakening, now her best-known work, appeared in 1899. 

Critics of Chopin's own day disapproved of the sexual frankness of The Awakening and were especially disturbed by the narrator's neutrality toward the unconventional behavior of Edna Pontellier, the heroine. All reviews of the novel were unfavorable. Soon after this setback, a planned third collection of short stories was rejected by a publisher, and Kate Chopin essentially ceased to write. In poor health, she died some five years after The Awakening appeared. She was only fifty-three.