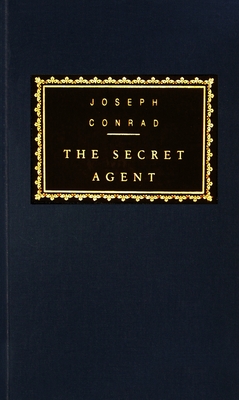 The Secret Agent (Hardcover)
Everyman's Library, 9780679417231, 320pp.
Publication Date: December 15, 1992
* Individual store prices may vary.
or
Not Currently Available for Direct Purchase
Description
Inspired by an attempt in 1894 to blow up London's Greenwich Observatory, The Secret Agent is the unsurpassed original of the long tradition of espionage thrillers that explore the confused motives at the heart of terrorism. Published in 1907, Joseph Conrad's novel was remarkably prescient, anticipating the political contours of the next century, as well as the classic spy novels of such later writers as Graham Greene and John Le Carre. Conrad's double agent, Verloc, is a Russian spy tasked with infiltrating an anarchist group in London. His mission to discredit the ineffectual radicals and their cause goes awry, and involves his unsuspecting wife and her vulnerable younger brother in disastrous ways. In its use of powerful psychological insight to intensify narrative suspense, The Secret Agent broke new literary ground. Conrad was the first novelist to discover the strange, in-between territory of the political exile, and his genius was such that we still have no truer map of that region's moral terrain than his story of a terrorist plot and its tragic consequences for both the guilty and the innocent. Introduction by Paul Theroux.
About the Author
Joseph Conrad (1857-1924) grew up amid political unrest in Russian-occupied Poland. After twenty years at sea with the French and British merchant navies, he settled in England in 1894. Over the next three decades he revolutionized the English novel with works such as Typhoon (1902), Youth (1902), Nostromo (1904), The Secret Agent (1907), Under Western Eyes (1911), Chance (1913), and Victory (1915).
Advertisement