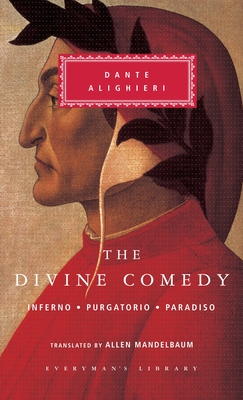 The Divine Comedy (Hardcover)
Inferno; Purgatorio; Paradiso (in one volume) (Everyman's Library Classics Series)
Everyman's Library, 9780679433132, 960pp.
Publication Date: August 1, 1995
Other Editions of This Title:
Paperback (6/6/2018)
Paperback (3/27/2013)
Paperback (3/7/2016)
Paperback (11/10/2015)
Paperback (6/21/2018)
Paperback (8/6/2016)
Paperback (1/30/2018)
Paperback (7/6/2018)
Paperback (5/6/2018)
Paperback (8/10/2017)
Paperback (5/4/2016)
Paperback (8/11/2017)
Paperback (7/12/2016)
Paperback (8/5/2016)
Paperback (2/28/2016)
Paperback (6/5/2018)
* Individual store prices may vary.
Description
This Everyman's Library edition–containing in one volume all three cantos, Inferno, Purgatorio, and Paradiso–includes an introduction by Nobel Prize—winning poet Eugenio Montale, a chronology, notes, and a bibliography. Also included are forty-two drawings selected from Botticelli's marvelous late-fifteenth-century series of illustrations.

Translated in this edition by Allen Mandelbaum, The Divine Comedy begins in a shadowed forest on Good Friday in the year 1300. It proceeds on a journey that, in its intense recreation of the depths and the heights of human experience, has become the key with which Western civilization has sought to unlock the mystery of its own identity. 

Mandelbaum's astonishingly Dantean translation, which captures so much of the life of the original, renders whole for us the masterpiece of that genius whom our greatest poets have recognized as a central model for all poets.



About the Author
Dante Alighieri, born in Florence, Italy, c. 1265, is considered one of the world's greatest poets. His use of the Florentine dialect established it as the basis for modern Italian. His late medieval epic, The Divine Comedy, was above all inspired, as was all his poetry, by his unrequited love for Beatrice, a woman he may have seen only from afar. He died in 1321, having completed his great work, yet an exile from his native city.
Praise For The Divine Comedy: Inferno; Purgatorio; Paradiso (in one volume) (Everyman's Library Classics Series)…
"The English Dante of choice." –Hugh Kenner

"Exactly what we have waited for these years, a Dante with clarity, eloquence, terror, and profoundly moving depths." –Robert Fagles, Princeton University

"A marvel of fidelity to the original, of sobriety, and truly, of inspired poetry." –Henri Peyre, Yale University