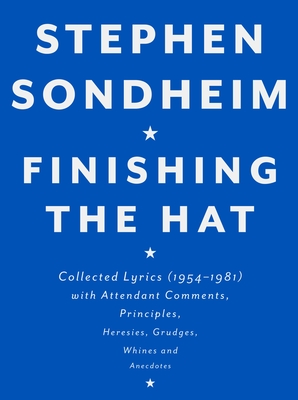 Finishing the Hat
Collected Lyrics (1954-1981) with Attendant Comments, Principles, Heresies, Grudges, Whines and Anecdotes
Hardcover

* Individual store prices may vary.
Description
ONE OF THE NEW YORK TIMES 10 BEST BOOKS OF THE YEAR • Titled after perhaps Stephen Sondheim's most autobiographical song, from Sunday in the Park with George—Finishing the Hat not only collects his lyrics for the first time, it offers readers a rare personal look into his life as well as his remarkable productions. 

Stephen Sondheim's career spanned more than half a century; his lyrics are synonymous with musical theater and popular culture. Sondheim—the winner of seven Tonys, an Academy Award, seven Grammys, a Pulitzer Prize and more—treats us to never-before-published songs from each show, songs that were cut or discarded before seeing the light of day, along with the lyrics for all of his musicals from 1954 to 1981, including West Side Story, Company, Follies, A Little Night Music and Sweeney Todd.

He discusses his relationship with his mentor, Oscar Hammerstein II, and his collaborations with extraordinary talents such as Leonard Bernstein, Arthur Laurents, Ethel Merman, Richard Rodgers, Angela Lansbury, Harold Prince and a panoply of others. The anecdotes—filled with history, pointed observations and intimate details—transport us back to a time when theater was a major pillar of American culture. Best of all, Sondheim appraises his work and dissects his lyrics, as well as those of others, offering unparalleled insights into songwriting that will be studied by fans and aspiring songwriters for years to come.

Accompanying Sondheim's sparkling writing are behind-the-scenes photographs from each production, along with handwritten music and lyrics from the songwriter's personal collection.

Penetrating and surprising, poignant, funny and sometimes provocative, Finishing the Hat is not only an informative look at the art and craft of lyric writing, it is a history of the theater that belongs on the same literary shelf as Moss Hart's Act One and Arthur Miller's Timebends. It is also a book that will leave you humming the final bars of Merrily We Roll Along, while eagerly anticipating the next volume.
Praise For Finishing the Hat: Collected Lyrics (1954-1981) with Attendant Comments, Principles, Heresies, Grudges, Whines and Anecdotes…
"Finishing the Hat is a show stopper! If you love Stephen Sondheim, hate him, or never even heard of him, you'll still have a great ride—so take it! This book is filled with humor, controversy, stories about talented and glamorous people and, above all, life. And his lyrics! Everything you've ever wanted to know—about anything—is in those lyrics." —Phyllis Newman
 
 "There is so much to be learned and appreciated from Finishing the Hat. It's filled with fascinating, entertaining, unique and compelling lessons from a man who encompasses the essence of what is truly great about American Musical Theatre." —Michael Feinstein
 
"Just as Stephen Sondheim is, without dispute, THE master lyricist for the theater of our generation (not to mention his superb music!), he now has written THE book on the art and craft of lyric writing. It is a book that will enrich and entertain anyone with an interest in music and theater, either as a life's work or a life's pleasure. It is like no other writing on the subject. It is Sondheim." —Alan & Marilyn Bergman
 
"Seeing my first Sondheim musical, Follies, I was like the farm girl brought to the Homes of Tomorrow exhibit; breathless, nose pressed to the glass. This book takes the glass away. It's a thrill to experience these shows again with Steve as your guide. What a gift to the theatre this book is! For actors, it's a must. For lyricists, it a primer." —Joanna Gleason
 
"The book is a masterpiece. There never has been and never will be one like it. It is about the grain of sand that produces the pearl and is indeed as honest and simple as that pearl. If you pay attention to this book you could learn how to write a song, though not a great song. That is forever mysterious as genius will always be. The main lesson is that this particular genius is dead practical. All the hocus pocus attached to art has no meaning in the mind of Sondheim. You must read it to see what does matter to him and you will marvel and read it again. And then again." —Mike Nichols
 
"Stephen Sondheim's book can be read for pleasure, information, wisdom, humor or inspiration; all of the pleasures I received. Or because it tells a few secrets about how genius works." —Stanley Donen
Knopf, 9780679439073, 480pp.
Publication Date: October 26, 2010
About the Author
STEPHEN SONDHEIM wrote award-winning music and lyrics for theater, film, and television. He is the author of Finishing the Hat: Collected Lyrics (1954-1981) and Look, I Made a Hat: Collected Lyrics (1981-2011). He is also the coauthor of the film The Last of Sheila and the play Getting Away with Murder. Sondheim was on the council of the Dramatists Guild of America, having served as its president from 1973 to 1981. He lived in New York City. He died in 2021.
Coverage from NPR