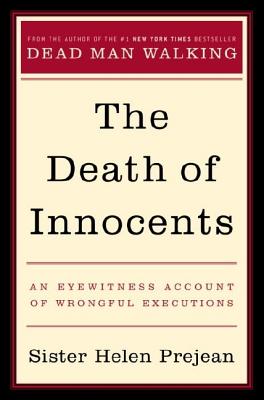 The Death of Innocents (Hardcover)
An Eyewitness Account of Wrongful Executions
Random House, 9780679440567, 336pp.
Publication Date: December 28, 2004
Other Editions of This Title:
Paperback (1/24/2006)
* Individual store prices may vary.
Description
Sister Helen Prejean was a little-known Roman Catholic nun from Louisiana when in 1993, her first book Dead Man Walking, challenged the way we look at the death penalty in America. It became a #1 New York Times bestseller and was nominated for the Pulitzer Prize. Now in The Death of Innocents, she takes us to the new moral edge of the debate on capital punishment: What if we're killing the wrong man?

Dobie Gillis Williams, an indigent black man from rural Louisiana with an IQ of 65, was accused of a brutal rape and murder. Williams's inept defense counsel, later disbarred for unethical practice for unrelated cases, allowed the prosecution's incredibly contrived scenario of the crime to go unchallenged. Less than two years after Williams's execution in January 1999, the Supreme Court ruled it unconstitutional to kill a man so mentally disabled.

In 1986, Joseph Roger O'Dell was convicted of murder in Virginia despite highly circumstantial evidence from a jailhouse snitch. For twelve years, O'Dell sought DNA testing on the forensic evidence, which he claimed would exonerate him, but the courts refused. After his execution on July 23, 1997, the state destroyed the evidence. As a result, its conviction of O'Dell could never be scrutinized.

"The reader of this book will be the first 'jury' with access to all the evidence the trial juries never saw," says Prejean, who accompanied both men to their executions. By using the withheld evidence to reconstruct the crimes for which these two men were convicted, Prejean shows how race, prosecutorial ambition, poverty, election cycles, and publicity play far too great a role in determining who dies and who lives.

Prejean traces the historical underpinnings of executions in this country, demonstrating that it is no accident that over 80 percent of executions in the past twenty-five years have been carried out in the former slave states. She also raises profound constitutional questions about an appeals system that decides most death cases on procedural grounds without ever examining their merits.

To date, 113 wrongfully convicted persons have been freed from death row. If constitutional protections–due process, assistance of counsel, and equal justice under law–are truly being respected, how is it possible that these people were convicted in the first place? And how can we accept a system so rife with error?

Sister Helen Prejean takes us with her on her spiritual journey as she accompanies two possibly innocent human beings to their deaths at the hands of the state. Prejean implores us to reflect on what is perhaps the core moral issue of the death penalty debate: Honorable people disagree about the justice of executing the guilty, but can anyone argue about the injustice of executing the innocent?
About the Author
Sister Helen Prejean travels extensively, giving, on average, 140 lectures a year, seeking to ignite public discourse on the death penalty. She has appeared on ABC's" World News Tonight," "60 Minutes, Oprah, "NPR, and an NBC special series on capital punishment. She is a member of the Sisters of St. Joseph of Medaille and lives in Louisiana.
Praise For The Death of Innocents: An Eyewitness Account of Wrongful Executions…
Advance praise for The Death of Innocents

"Once again, Sister Helen Prejean has brought her fierce intelligence, critical eye and moral passion to the subject of the death penalty. The Death of Innocents is also a detective story about the flawed ways of justice in America. Sister Helen's voice has never been more pained, more insistent–or more worthy of our attention."
–Jeffrey Toobin

"The Death of Innocents tells us with intellect, wisdom, and passion an awful truth about the administration of capital punishment in America that we won't or don't want to believe–procedure arbitrarily trumps substance, maddening incompetence undermines best intentions, racism shames everyone, and innocents are executed."
–Barry Scheck

"In Dead Man Walking, Sister Helen Prejean helped us face the questions of whether it is morally right for governments to kill the guilty. In The Death of Innocents, she ups the ante of moral reckoning: In a hopelessly flawed system of justice, what if we're killing innocent people along with the guilty? This important and well-written book is a deeply personal, compassionate, searingly honest eyewitness account of the death penalty in America. If you are not outraged by the sheer inhumanity and unfairness of state-sanctioned killing after reading this book, it might be time for you to run for governor of Texas."
–Tim Robbins and Susan Sarandon

"The Death of Innocents points out the flaws of the system that exist not only in Louisiana, Texas, and Virginia, but in all death penalty states. Abolition will be a reality someday, thanks to the efforts and works of Sister Helen Prejean."
—George H. Ryan, former Governor of Illinois

"Sister Helen Prejean remains the preeminent witness to our most persistent barbarism. Her eloquent testimony on behalf of the condemned and the wrongly convicted–and the example of her fellowship–can inspire all Americans to find a better way."
–Ted Conover

"Once more Sister Helen enables us to connect on a deeply human level with those on death row. But in The Death of Innocents she also explains the seismic change in Catholic teaching on the death penalty. Following Pope John Paul's lead, Catholics everywhere now work for the abolition of this evil."
–Bishop Thomas J. Gumbleton, Auxiliary Bishop, Archdiocese of Detroit

"Sister Helen Prejean has done it again–she has written a powerful and poignant book about those whose lives are taken wrongly by our system of criminal justice."
–Cornel West
or
Not Currently Available for Direct Purchase