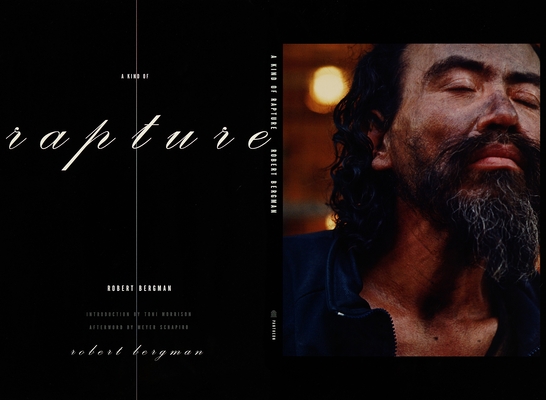 A Kind of Rapture (Hardcover)
Pantheon, 9780679442578, 120pp.
Publication Date: November 3, 1998
* Individual store prices may vary.
or
Not Currently Available for Direct Purchase
Description
"Occasionally there arises an event or a moment that one knows immediately will forever mark a place in the history of artistic endeavor. Robert Bergman's portraits represent such a moment. In all its burnished majesty his gallery refuses us unearned solace ad one by one by one each photograph unveils us, asserting a beauty, a kind of rapture, that is as close as can be to a master template of the singularity, the community, the unextinguishable sacredness of the human race."
Toni Morrison, in her introduction to A Kind of Rapture
A Kind of Rapture brings together a selection of 51 color photos from Robert Bergman's two-year travels by car through the Rust Belt (Chicago, Detroit, Cleveland, Pittsburgh, Gary) and the East Coast, taking color pictures of everyday people who moved him profoundly. In fall 2009 and spring 2010, Robert Bergman will have his first two solo exhibitions at the National Gallery of Art, Washington, D.C. and PS1 MOMA. The exhibition at the former will run from October 11, 2009 to January 10, 2010; that at the latter from October 25, 2009 to January 4, 2010.
" Bergman's] finest works bring to mind some of the greatest painted portraits He has introduced the processes of unification, as in a painting, with the search for harmony, movement, variety, ad distinction within it, beyond what I have ever seen in a photograph Here are masterful revelations of states of existence in the inner and outer person truly profound works of art."
Meyer Schapiro, in his afterward to A Kind of Rapture

About the Author
Every now and then, the art world offers up an unlikely story, and Robert Bergman's is one of them. He was born in New Orleans and raised mostly in Minneapolis. He began taking and developing snapshots at age 6, and save for a few teenage years he has strived to be a great photographer-artist ever since. But he has remained an out-of-step one, isolated from contemporary tastes, a cult figure to the few who have seen his work in person or in a 1998 book. The 65-year-old photographer went his own way over the past four decades, never selling a work until two years ago, but he nevertheless is about to burst onto the scene with two museum exhibitions, and next month he will have his first show at a commercial gallery, Yossi Milo in Chelsea, New York City. From The Wall Street Journal review by JUDITH H. DOBRZYNSKI"
Advertisement