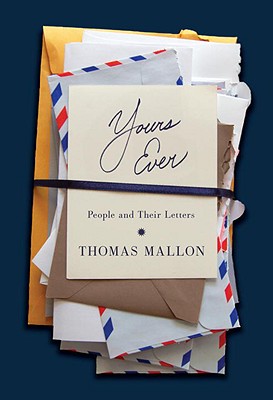 Yours Ever
People and Their Letters
Hardcover

* Individual store prices may vary.
Other Editions of This Title:
Paperback (12/7/2010)
Description
From the author of A Book of One's Own and Stolen Words comes a delightful and wide-ranging investigation of the art of letter writing.

Yours Ever explores the offhand masterpieces dispatched through the ages by messenger, postal service, and BlackBerry. Thomas Mallon weaves a remarkable assortment of epistolary riches into his own insightful and eloquent commentary on the circumstances and characters of the world's most intriguing letter writers. Here are Madame de Sévigné's devastatingly sharp reports from the court of Louis XIV, F. Scott Fitzgerald's tormented advice to his young daughter, the besotted midlife billets-doux of a suddenly rejuvenated Woodrow Wilson, the casually brilliant spiritual musings of Flannery O'Connor, the lustful boastings of Lord Byron, the cries from prison of Sacco and Vanzetti. Along with the confessions and complaints and revelations sent from battlefields, frontier cabins, and luxury liners, a reader will find Mallon considering travel bulletins, suicide notes, fan letters, and hate mail–forms as varied as the human experiences behind them.

Yours Ever is an exuberant reintroduction to a vast and entertaining literature–a book that will help to revive, in the digital age, this glorious lost art.
Praise For Yours Ever: People and Their Letters…
Praise for Yours Ever

"Yours Ever is nuanced, informed, full-blooded, a vigorous literary salute…It  is next to impossible to read these pages without mourning the whole apparatus of distance, without experiencing a deep and plangent longing for the airmail envelope, the sweetest shade of blue this side of a Tiffany box. Is it possible to sound crusty or confessional electronically? It is as if text and e-mail messages are of this world, a letter an attempt, however illusory, to transcend it. All of which adds tension and resonance to Mallon's pages, already crackling with hesitations and vulner­abilities, obsessions and aspirations, with reminders of the lost art of literary telepa­thy, of the aching, attenuated rhythm of a written correspondence."
—The New York Times Book Review
 
"Readers, whether history buffs or not, should find this book pleasingly ripe with insights into the bittersweet rewards of revealing oneself to the perfect listener: at once achingly absent, but also—for a time—so blissfully silent."
—Minneapolis Star Tribune

"Yours Ever is a revelatory collection of the nutty and the noble encased in private correspondence."
—Fresh Air from WHYY 

"A buoyant, wistful ode to what we have discarded, and perhaps a clarion call to resurrect an art form we have come to believe as technologically redundant."
—The Sunday Republican

"Mallon is an ideal guide on this whirlwind tour…Yours Ever puts the belle back in belles-lettres."
—Los Angeles Times
 
"Mallon's stroll through letter-writing history, arranged by genre (Absence, Friendship, Complaint, Confession, etc.) and brightened by selective quotation from exemplary practitioners, is itself like good letter writing—fluid, discursive, aphoristic…Mallon's erudition (which he wears lightly) and his curiosity (which he shares generously) have sent him diving into words left behind by royalists and revolutionaries, murderers and lovers, Ann Landers and Ayn Rand."
—CNNMoney.com
 
"Mr. Mallon's fine book shows how important it is that we take pains to continue writing soulful letters today, whether on paper or in pixels."
—The Wall Street Journal

"Smart and enchanting…a well-fed meditation on the humanity that descends to us from history in the form of letters." —The Advocate

Praise for Thomas Mallon

A Book of One's Own: People and Their Diaries

"It is inclusive... but not a bit long-winded. It is learned but never pedantic. It is also charming, diverting, and exceptionally intelligent. The book is literary criticism, yet it is something more–a knowing, sympathetic, but not soppy commentary on humanity."
—The New Yorker

Stolen Words: Forays into the Origins and Ravages of Plagiarism
"The wonder of Stolen Words is that it remains specific and detailed yet manages to cover so much ground and blow away so much of the fog surrounding plagiarism."
—The New York Times

In Fact: Essays on Writers and Writing
"With a savvy scope reminiscent of Edmund Wilson's approach to books and authors, Mallon provides astute analysis of individual works within the broader context of a writer's career or the genre being considered... Striking phrasing and acute perception are hallmarks of these essays."
—Chicago Tribune

Pantheon, 9780679444268, 352pp.
Publication Date: November 10, 2009
About the Author
THOMAS MALLON is the author of seven novels, including "Henry and Clara, Dewey Defeats Truman "and "Fellow Travelers." He is a frequent contributor to "The New Yorker, The New York Times Book Review," and "The Atlantic Monthly. "He lives in Washington, D.C.
Coverage from NPR
or
Not Currently Available for Direct Purchase