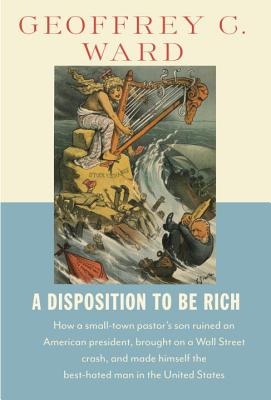 A Disposition to Be Rich
How a Small-Town Pastor's Son Ruined an American President, Brought on a Wall Street Crash, and Made H
Hardcover

* Individual store prices may vary.
Other Editions of This Title:
Paperback (4/23/2013)
MP3 CD (5/1/2012)
Compact Disc (5/1/2012)
MP3 CD (5/1/2012)
Compact Disc (5/1/2012)
Compact Disc (5/1/2012)
Description
Ferdinand Ward was the greatest swindler of the Gilded Age. Through his unapologetic villainy, he bankrupted Ulysses S. Grant and ran roughshod over the entire world of finance. Now, his compelling, behind-the-scenes story is told—told by his great-grandson, award-winning historian Geoffrey C. Ward.
Ward was the Bernie Madoff of his day, a supposed genius at making big money fast on Wall Street who turned out to have been running a giant pyramid scheme—one that ultimately collapsed in one of the greatest financial scandals in American history. The son of a Protestant missionary and small-town pastor with secrets of his own to keep, Ward came to New York at twenty-one and in less than a decade, armed with charm, energy, and a total lack of conscience, made himself the business partner of the former president of the United States and was widely hailed as the "Young Napoleon of Finance." In truth, he turned out to be a complete fraud, his entire life marked by dishonesty, cowardice, and contempt for anything but his own interests.
Drawing from thousands of family documents never before examined, Geoffrey C. Ward traces his great-grandfather's rapid rise to riches and fame and his even more dizzying fall from grace. There are mistresses and mansions along the way; fast horses and crooked bankers and corrupt New York officials; courtroom confrontations and six years in Sing Sing; and Ferdinand's desperate scheme to kidnap his own son to get his hands on the estate his late wife had left the boy. Here is a great story about a classic American con artist, told with boundless charm and dry wit by one of our finest historians.
 


Praise For A Disposition to Be Rich: How a Small-Town Pastor's Son Ruined an American President, Brought on a Wall Street Crash, and Made H…
"A Disposition to Be Rich is a special accomplishment . . . After Ferdinand De Wilton Ward Jr. became notorious as a Gilded Age financial schemer of rare weaselly ingenuity, his picture appeared in a manual of phrenology. The shape of his "low-top head, very broad from side to side," was said to explain why Ward had shown the "Secretiveness, Cunning, Acquisitiveness, Destructiveness" to bilk investors, shame and bankrupt a former president and try to kidnap his own son . . .  It took a great-grandson of Ferdinand's, the prizewinning historian Geoffrey C. Ward, to write the scandal-filled but eminently fair book that airs this dirty laundry . . .  A most peculiar labor of love."
—Janet Maslin, The New York Times
 
"Before Bernard Madoff, before Charles Ponzi, there was Ferdinand Ward . . . Based on troves of letters and other memorabilia that Mr. Ward patiently amassed over many years, A Disposition to Be Rich is actually a family chronicle of sorts, in which Ferdinand is by no means the most demented ancestor . . . [A] beguiling reminder that human nature doesn't change much from one Gilded Age to another, although each new con merchant brings fresh wrinkles to the racket."
—Edward Kosner, The Wall Street Journal
 
"A scoundrel and a celebrity, the embezzler Ferdinand Ward made headlines for 25 years. This work, the result of decades of research into family archives and conversations with Geoffrey Ward's grandfather, Ferd's son Clarence, often reads like fiction. What's as impressive as Ferd Ward's career was wayward is his great-grandson's powers of historical synthesis. . . . With a story like this one, no invention was necessary."
—Carlo Wolff, Christian Science Monitor

"Like a great nineteenth century novel, this is a mordantly entertaining account of the author's great-grandfather Ferdinand Ward, whose stock brokerage collapsed spectacularly in 1885 after swindling Ulysses S. Grant and other luminaries out of millions . . . . A rollicking financial picaresque."
—Publishers Weekly (starred, boxed review)

"Imagine that Bernie Madoff was in business with former President Dwight Eisenhower and that after stealing millions from Warren Buffett, Madoff left Ike with only $80 to his name. That's what Ferd Ward did to Ulysses S. Grant, but it only begins to describe the perfidy of the greatest swindler of the 19th Century. Now Ward's great grandson, one of America's finest historians, has redeemed the Ward family name with this wry and engrossing tale of Gilded Age greed that resonates powerfully in our own time."
—Jonathan Alter, author of The Promise: President Obama, Year One
 
"Before Charles Ponzi, before Bernie Madoff, there was Ferdinand Ward, the greatest and most audacious schemer of them all. Geoffrey Ward, his great grandson, had rare access to private papers, accounts, court documents, and the letters of this evil, self-justifying, mesmerizing sociopath, who went from a poor minister's son to the swindling partner of President Ulysses S. Grant. This is a superb, exciting, beautifully written book. I couldn't put it down. You won't either."
—Barbara Goldsmith, author of Obsessive Genius: The Inner World of Marie Curie
 
"Geoffrey Ward has written an astonishing book.  Readers will not want to put down his fast-paced account of how his great grandfather, "The Best-Hated Man in the United States," brought U.S. Grant to ruin.  He leaves no doubt that Ferdinand Ward of Grant and Ward was a scoundrel, but, in this riveting biography, he also raises the fascinating question of why so many Americans in the Gilded Age were so eager to become dupes."
—William E. Leuchtenburg, winner of the Bancroft Prize and the Francis Parkman Prize of the Society of American Historians

"No dramatization could match the richness of detail and command of sources that Ward provides here. Each footnote is a miniature history in itself—coming together in a remarkably vivid and focused portrait of the age, its biases and follies."
—David Walton, The Dallas Morning News

"A gripping story of chicanery in the stock market which drives home the ancient adage, 'Buyer, beware!'"
—Joseph C. Goulden, The Washington Times

"[An] elegant new biography."
—T.J. Stiles, The New York Times Sunday Book Review

"A Disposition to be Rich is a unique family history that is also a unique literary collaboration."
—David Walton, Louisville Courier-Journal

A New York Times Notable Book of 2012
Knopf, 9780679445302, 432pp.
Publication Date: May 1, 2012
About the Author
Geoffrey C. Ward is the coauthor of "The Civil War ("with Ken Burns and Ric Burns), and the author of "A First-Class Temperament: The Emergence of Franklin Roosevelt, " which won the 1989 National Book Critics Circle Award for biography and the 1990 Francis Parkman Prize.
or
Not Currently Available for Direct Purchase