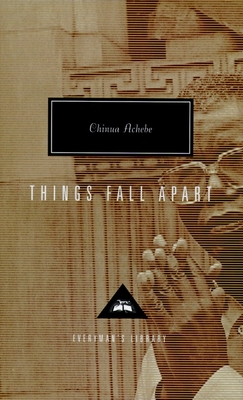 Things Fall Apart (Everyman's Library Contemporary Classics Series) (Hardcover)
Everyman's Library, 9780679446231, 536pp.
Publication Date: October 17, 1995
Other Editions of This Title:
Paperback (9/1/1994)
Prebound (9/1/1994)
Prebound (9/1/1994)
Paperback (1/1/1987)
Paperback (9/1/2008)
Compact Disc (12/1/2003)
Paperback (5/25/2015)
Paperback, Chinese (5/1/2014)
Paperback (6/1/2007)
Paperback (11/1/2001)
Paperback, Vietnamese (1/1/2008)
* Individual store prices may vary.
Description
THINGS FALL APART tells two overlapping, intertwining stories, both of which center around Okonkwo, a "strong man" of an Ibo village in Nigeria. The first of these stories traces Okonkwo's fall from grace with the tribal world in which he lives, and in its classical purity of line and economical beauty it provides us with a powerful fable about the immemorial conflict between the individual and society. The second story, which is as modern as the first is ancient, and which elevates the book to a tragic plane, concerns the clash of cultures and the destruction of Okonkwo's world through the arrival of aggressive, proselytizing European missionaries. These twin dramas are perfectly harmonized, and they are modulated by an awareness capable of encompassing at once the life of nature, human history, and the mysterious compulsions of the soul. THINGS FALL APART is the most illuminating and permanent monument we have to the modern African experience as seen from within.
About the Author
Chinua Achebe was born in Nigeria in 1930. His first novel, Things Falls Apart, became a classic of international literature and required reading for students worldwide. He also authored four subsequent novels, two short-story collections, and numerous other books. He was the David and Marianna Fisher University Professor and Professor of Africana Studies at Brown University and, for over 15 years, was the Charles P. Stevenson Jr. Professor of Languages and Literature at Bard College. In 2007, Achebe was awarded the Man Booker International Prize for lifetime achievement. He died in 2013.
Praise For Things Fall Apart (Everyman's Library Contemporary Classics Series)…
Praise for Chinua Achebe
 
"A true classic of world literature...A masterpiece that has inspired generations of writers in Nigeria, across Africa, and around the world." — Barack Obama

"A magical writer—one of the greatest of the twentieth century." —Margaret Atwood
 
"African literature is incomplete and unthinkable without the works of Chinua Achebe." —Toni Morrison                                                                                                                                                                                                                        
 
"Chinua Achebe has shown that a mind that observes clearly but feels deeply enough to afford laughter may be more wise than all the politicians and journalists." —Time

"Chinua Achebe is gloriously gifted with the magic of an ebullient, generous, great talent." —Nadine Gordimer
 
"Achebe's influence should go on and on . . . teaching and reminding that all humankind is one." —The Nation
 
"The father of African literature in the English language and undoubtedly one of the most important writers of the second half of the twentieth century." —Caryl Phillips, The Observer
 
"We are indebted to Achebe for reminding us that art has social and moral dimension—a truth often obscured." —Chicago Tribune
 
"He is one of the few writers of our time who has touched us with a code of values that will never be ironic." —Michael Ondaatje
 
"For so many readers around the world, it is Chinua Achebe who opened up the magic casements of African fiction." —Kwame Anthony Appiah
 
"[Achebe] is one of world literature's great humane voices." —Times Literary Supplement
 
"Achebe is one of the most distinguished artists to emerge from the West African cultural renaissance of the post-war world." —The Sunday Times (London)
 
"[Achebe is] a powerful voice for cultural decolonization." —The Village Voice
 
"The power and majesty of Chinua Achebe's work has, literally, opened the world to generations of readers. He is an ambassador of art, and a profound recorder of the human condition." —Michael Dorris