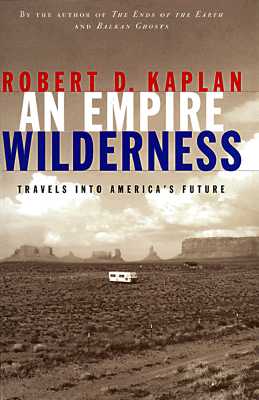 An Empire Wilderness: Travels Into America's Future (Hardcover)
Travels Into America's Future
Random House, 9780679451907, 393pp.
Publication Date: August 1, 1998
* Individual store prices may vary.
or
Not Currently Available for Direct Purchase
Description
When Robert Kaplan writes, people in high places pay attention. Balkan Ghosts was required reading in the White House; on his recent vacation President Clinton had with him a copy of The Ends of the Earth. Whether Kaplan writes about the Balkans, Africa, or Central Asia, he seeks details that warn of large-scale political and cultural changes to come.
Like Lewis and Clark nearly two centuries ago, Kaplan set off westward from Fort Leavenworth, Kansas. He journeyed from Mexico to Canada, through the American heartland, and up the Pacific rim. Along the way he discovered a new America, one that draws its population from pools of talent far beyond its borders, where the distance between winners and losers grows exponentially, where old allegiances are vanishing and new ones have yet to emerge. He saw the American future in the suburbs of St. Louis and Omaha, with their gated communities and globalized businesses; in the cities of the Pacific Northwest, with their huge Asian populations; and in the Hispano-American culture that will soon dominate the American Southwest.

Advertisement