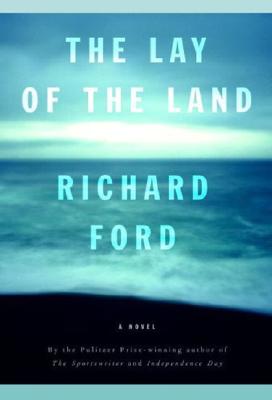 The Lay of the Land
Hardcover

* Individual store prices may vary.
Other Editions of This Title:
Digital Audiobook (10/23/2006)
Paperback (7/24/2007)
Compact Disc (10/24/2006)
Description
With The Sportswriter, in 1986, Richard Ford commenced a cycle of novels that ten years later—after Independence Day won both the Pulitzer Prize and the PEN/Faulkner Award—was hailed by The Times of London as "an extraordinary epic [that] is nothing less than the story of the twentieth century itself." Now, a decade later, Frank Bascombe returns, with a new lease on life (and real estate), more acutely in thrall to life's endless complexities than ever before.

His story resumes in the autumn of 2000, when his trade as a realtor on the Jersey Shore is thriving, permitting him to revel in the acceptance of "that long, stretching-out time when my dreams would have mystery like any ordinary person's; when whatever I do or say, who I marry, how my kids turn out, becomes what the world—if it makes note at all—knows of me, how I'm seen, understood, even how I think of myself before whatever there is that's wild and unassuagable rises and cheerlessly hauls me off to oblivion." But as a Presidential election hangs in the balance, and a postnuclear-family Thanksgiving looms before him along with crises both marital and medical, Frank discovers that what he terms the Permanent Period is fraught with unforeseen perils: "All the ways that life feels like life at age fifty-five were strewn around me like poppies."

A holiday, and a novel, no reader will ever forget—at once hilarious, harrowing, surprising, and profound. The Lay of the Land is astonishing in its own right and a magnificent expansion of one of the most celebrated chronicles of our time.
Praise For The Lay of the Land…
"Frank Bascombe is the most exquisitely, heartbreakingly, realistically, tirelessly, completely drawn modern American male in contemporary fiction . . . Ford is showing us that the world we live in is freighted with meaning, worthy of stopping to consider, and is, when looked at the right way, hauntingly, hilariously, ruinously poetic."
—Devin Friedman, Gentlemen's Quarterly

"Over the past two decades, Richard Ford has been forging a new way of writing fiction about, and out of, American life that is as revolutionary as Proust's adventures in time travel.  Ford is a superb short-story writer, but his masterpiece is the trilogy of novels with Frank Bascombe as their protagonist.  Now the great arch is complete by The Lay of the Land, a marvelously subtle, moving and funny account of Frank's present and, it may be, terminal predicament: still selling real estate, still divorced, still abandoned by his second wife, struggling to understand his offspring and suffering from prostate cancer." 
—John Banville, The Observer (London)

"My great book of the year was Richard Ford's The Lay of the Land, his Ulysses, a long, painstakingly attentive, humanely comical celebration of the mid-life of his New Jersey real-estate salesman, Frank Bascombe, an American citizen at odds with, and at home in, America, whose story, so wonderfully written in every breath of every sentence, will teach you how to lead a well-examined life 'on the human scale'—and how to leave it."
—Hermione Lee, The Guardian (London)

"A novel packed with lubricious humor, dazzling literary catalogs a la Stanley Elkin, and a rendering of the Jersey Shore as meticulous as Joyce's descriptions of Dublin [that] distinguishes Ford as a writer unique to his generation . . . While often hysterically funny, at base he is an enormously serious writer, but also down-to-earth in both subject and diction [and] unusual among writers today in his willingness to write about the big issues . . . By turns hilarious and sad, The Lay of the Land is a fitting end piece to The Sportswriter and Independence Day, but for those who have been following Frank Bascombe's peregrinations since 1986, it's not without regret that we watch him shuffle off . . . It will be a while before we see his like in fiction again."
--David Milofsky, The Denver Post

"Ford is a master of his craft. His narrative is evocative, atmospheric. His musings on everything from real estate to relationships are elegantly drawn, provocative and rarely sentimental. He has a finely tuned sense of place. Sections of the book are laugh-out-loud funny, a startling contrast to the sometimes horrific violence he renders so skillfully."
--Jan Hoback, Rocky Mountain News

"Frank does many spectacularly wrong things, but his observations are spectacularly right. At a time when experience itself has been devitalized, when our daily dose of impressions and sensation grows ever more indigestible and our mental landscape has taken on the mundane sprawl of the actual environment even as our expectations shrink, Frank's voice is a valuable corrective. Who better to report on the way we live now than a man whose stock in trade is the very places we inhabit?"
--Betsy Willeford, Miami Herald

"The Lay of the Land, as with the entire Ford canon, is distinct not only for its singular style but also because of its generosity. Ford shows that life is never easy and never placid. We will fight and flail, and love and lose. Yet we keep moving forward for that occasional moment of pure understanding."
--Stephen Lyons, Chicago Sun-Times

"By the beautiful end of this novel--after all the heartbreak, the tentative steps toward renewal, the violent encounters with death, the struggle to overcome the terror of what is, after all, the ordinary hand that life deals each of us--Frank reaches a resolution that's powerfully moving. Mr. Ford's language, still laconic yet comfortably embracing; his account of the inexorability of modern life; his humane understanding of the puzzlement men face when trying to comprehend what has happened as they age; his tenderness in describing how women deal with men; his basic understanding of how we all got here and what we're all facing; his affirmation of the great need to truly live one's life out--they all add up to an experience that transcends ordinary reading. A candidate for the great American novel, the trilogy of Frank Bascombe books is a heartbreaking masterpiece."
--André Bernard, New York Observer

"His intense imagination, his unwavering attention to detail, the humane spirit with which he portrays his characters and his deep interest and understanding of his times, our times, make Ford's work essential literature. And while this may be Frank Bascombe's final appearance, it is one that will bear many return visits.
--Frank Reiss, The Atlanta Journal-Constitution

"Ford once again shows why he deserves to be hailed as one of the great American fiction novelists of his generation and why Frank Bascombe deserves a spot on the modern American fictional-character roster, alongside John Updike's Harry Angstrom, Walker Percy's Binx Bolling and Saul Bellow's Augie March, [and] what the author is doing here: reminding us that even the smallest and most insignificant-seeming of our experiences can trigger the cascade of memories, feelings and observations that combine to form genuine insight."
--Jeff, Turrentine, The Washington Post Book World

"Frank Bascombe is one of the great characters of modern American fiction, [and] it's fair to say that we know more about Frank--his opinions on most things--than we do about members of our family or our inner circle of friends."
--June Sawyers, The San Francisco Chronicle

"Ford's bracingly jaundiced perspective, the postmillennial, exurban American experience vividly materializes in all its tragicomically absurd permutations."
--Michael Sandin, Time Out New York

"A great American novel that never resorts to paranoid hyperbole or beatific roadrunning . . . In its gist a benevolent survey of the cluttered American landscape."
--Benjamin Lytal

"As in many literary classics, the beauty of this novel is in its presentation . . . and in Bascombe's unwaveringly honest and humorous narration . . . A fitting way to complete the Frank Bascombe legacy."
--Stephen Morrow, Library Journal

"A style overflowing with detail, yet intact because it is utterly Frank Bascombe. And while readers may admire Richard Ford's skilful wrapping of his tale with contemporary ribbons, they will most of all enjoy once again being in Frank's company, registering his comic bite into life as it comes at him."
--James Campbell, Times Literary Supplement

"One of the many triumphs of Ford's latest novel lies in the paradoxes of what Frank ironically calls the Permanent Period: the overlaps between acceptance and denial and the ways by which hard-won resilience can come to the fore . . . The book vividly communicates the underlying pressures of American provincial life, and of its time, [and its] sense of pace--almost imperceptibly gentle declarations ruptured by startling shifts of gear--is unmatched."
--Jeremy Treglown, Financial Times

"With its profound and full-hearted perception . . . the voice is everything in The Lay of the Land, and it insinuates itself into the reader's consciousness with the sneaky intractability of marriage . . . Eloquently poised between the points of beauty and sorrow [and] so rich--so filled with insight, humor, and stylistic grace--that I didn't want this long and winding trail to end."
--Gail Caldwell, The Boston Globe

"Writing at the height of his powers, with a magisterial grasp of time and place, Ford delivers on beautiful, bruising wonder of a book."
--Lisa Shea, Elle

"Moving, smart and funny . . . Ford has brilliantly, and sympathetically, dissected American life in the late 20th century, daring to examine the understory where matters of mortality, faith, politics, and sex are all-consuming but seldom directly addressed."
--Elaina Richardson, O Magazine

"Ford manages to become his character and remove authorial boundaries, transforming his novel into a story told to us by an old friend."
--Stephen Morrow, Library Journal

"Shot full of mystery, menace and grace."
--Richard Wallace, Seattle Times

"Engaging, brilliant, hugely sad, and, of course, ultimately uplifting."
--William Leith, Evening Standard (London)

"Illness, politics, family--big stuff indeed . . . [But] there is plenty of comedy, of a low-key, whimsical kind . . . By now, we have gotten to know Frank Bascombe well enough to take his measure, and to appreciate that, like almost no one else in our recent literature, he is life-size."
--A. O. Scott, New York Times Book Review

"The weird (and often the comical) invades the ordinary as Bascombe navigates what he calls the Permanent Period, meaning, more or less, the time of life when he believes things have settled in and the possibility of life-shattering blows has passed. He's wrong, of course, [and] Ford's pitch-perfect voice takes us as close as we can get to experiencing another person's inner life."
--George Hackett, Newsweek

"The Lay of the Land, as with the entire Ford canon, is distinct not only for its singular style but also for its generosity. Ford shows that life is never easy and never placid. We will fight and flail, love and lose. Yet we keep moving forward for that occasional moment of pure understanding."
--Stephen J. Lyons, Minneapolis Star-Tribune

"Ford rolls out his 2006 Bascombe masterfully, assembling Frank's late middle age (his "Permanent Period") with such splendid writing and soulful humor that you don't read the book so much as watch it happen."
--Jess Walter, Playboy

British Acclaim for The Lay of the Land:

"Compulsively readable, even though Ford dares to set a pace that is both capacious and leisurely, in which personal rumination is brilliantly married to spot-on social scrutiny . . . As a portrait of the American psyche in a time of material plenty and great communal doubt, as a depiction of the dance we do with our own transience, and the accommodations we make with ourselves and others in order to get through the day, The Lay of the Land is a superb achievement."
--Douglas Kennedy, The Independent

"Wistful, bittersweet--and often very funny . . . [The Lay of the Land] seems to locate all the quiet despairs and hopes of the human condition with exquisite precision."
--Mick Brown, Telegraph Magazine

Advance reviews in the U.S.:

"Frank Bascombe meticulously maps New Jersey with a realtor's rapacious eye, and he is an equally intense topographer of his teeming inner landscape . . . Ford summons a remarkable voice for his protagonist--ruminant, jaunty, merciless, generous and painfully observant--building a dense narrative from Frank's improvisations, epiphanies and revisions . . . 'Is this it?' and 'Am I good?' Frank wonders. The answers don't come easy."
--Publishers Weekly, starred review

"The third and most eventful novel in the Frank Bascombe series . . . As always, Frank prefers to react than act, to roll with the punches thrown by those who wish he were someone other than who he is. Over the course of three days culminating in a holiday dinner, he absorbs more punches than at any other time in his life."
--Kirkus, starred review

Praise for Richard Ford:

"Ford captures the intricacies of human beings better than just about any other writer alive. . . . [He] is a great surveyor of human nature, a master of the small moments that take place in between and shape the larger movements of our lives."
–The Globe and Mail

"With a mastery second to none, Richard Ford has created a character we know as well as our next-door neighbours.
Frank Bascombe has earned himself a place beside Willy Loman and Harry Angstrom in our literary landscape, but he has done so with a wry wit and a fin de siècle wisdom that is very much his own."
–The New York Times Book Review

"Ford is one of the greatest writers of our time, from any country and in any language, whose finely crafted words can pierce the heart like an arrow."
–Calgary Herald
Knopf, 9780679454687, 496pp.
Publication Date: October 24, 2006
or
Not Currently Available for Direct Purchase