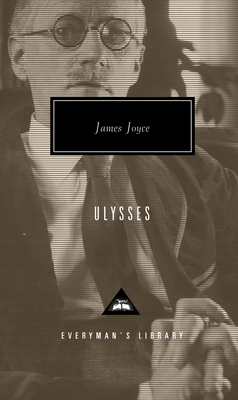 Ulysses (Everyman's Library Contemporary Classics Series)
Hardcover

* Individual store prices may vary.
Other Editions of This Title:
Digital Audiobook (5/9/2010)
Digital Audiobook (7/29/2017)
Digital Audiobook (1/10/2013)
Paperback (12/26/2010)
Paperback (5/5/2009)
Paperback (6/16/1990)
Paperback (12/24/2002)
Paperback (9/1/2011)
Paperback (5/29/2008)
Hardcover (9/8/2009)
Paperback (1/5/2010)
Compact Disc (6/1/2010)
Paperback (1/1/2010)
Compact Disc (5/20/2004)
Paperback (3/1/2007)
Mass Market Paperback (3/1/1998)
Description
The most famous day in literature is June 16, 1904, when a certain Mr. Leopold Bloom of Dublin eats a kidney for breakfast, attends a funeral, admires a girl on the beach, contemplates his wife's imminent adultery, and, late at night, befriends a drunken young poet in the city's red-light district.
An earthy story, a virtuoso technical display, and a literary revolution all rolled into one, James Joyce's Ulysses is a touchstone of our modernity and one of the towering achievements of the human mind.
Praise For Ulysses (Everyman's Library Contemporary Classics Series)…
"Joyce's parallel use of The Odyssey…has the importance of a scientific discovery…It is simply a way of controlling, of ordering, of giving a shape and a significance to the immense panorama of futility and anarchy which is contemporary history…It is, I seriously believe, a step toward making the modern world possible for art." –T. S. Eliot

"Ulysses has enough verbal splendor to furnish a legion of novels…You will have difficulty finding a fuller portrait of the natural man." –Harold Bloom, The Western Canon

"One might almost risk praising [Ulysses] for being a work of literature in which the spirit of one man is eternally confirmed in all its complexity." –from the Introduction

With an Introduction by Craig Raine
Everyman's Library, 9780679455134, 1144pp.
Publication Date: October 28, 1997
About the Author
James Joyce, the twentieth century's most influential novelist, was born in Dublin on February 2, 1882. The oldest of ten children, he grew up in a family that went from prosperity to penury because of his father's wastrel behavior. After receiving a rigorous Jesuit education, twenty-year-old Joyce renounced his Catholicism and left Dublin in 1902 to spend most of his life as a writer in exile in Paris, Trieste, Rome, and Zurich. On one trip back to Ireland, he fell in love with the now famous Nora Barnacle on June 16, the day he later chose as "Bloomsday" in his novel Ulysses. Nara was an uneducated Galway girl who became his lifelong companion an the mother of his two children. In debt and drinking heavily, Joyce lived for thirty-six years on the Continent, supporting himself first by teaching jobs, then trough the patronage of Mrs. Harold McCormick (Edith Rockerfeller) and the English feminist and editor Harriet Shaw Weaver. His writings include Chamber Music (1907), Dubliners (1914), A Portrait of the Artist as a Young Man (1916), Exiles (1918), Ulysses (1922), Pomes Penyeach (1927), Finnegan's Wake (1939), and an early draft of A Portrait of a Young Man, Stephan Hero (1944). Ulysses required seven years to complete, and his masterpiece, Finnegan's Wake,took seventeen. Both works revolutionized the form, structure, and content of the novel. Joyce died in Zurich in 1941.