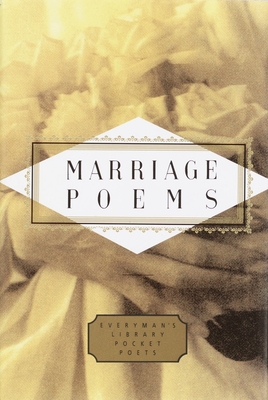 Marriage Poems (Hardcover)
Everyman's Library, 9780679455158, 256pp.
Publication Date: April 29, 1997
Description
A sparkling collection of poems about virtually every aspect of matrimony: courtships and weddings, adulteries and separations, domestic harmony, wedded bliss. Here are marriages made in many cultures and eras, delightfully evoked by poets ranging from Shakespeare to Omar Khayyam to D.H. Lawrence and Mona Van Duyn. From the rapturous infatuation of the Song of Songs to Ovid's cynical advice on 'The Art of Deceiving a Husband, ' no facet of the matrimonial state remains unexplored.
About the Author
JOHN HOLLANDER is the author of more than a dozen books of poetry. His first, A Crackling of Thorns, was chosen by W. H. Auden as the 1958 volume in the Yale Series of Younger Poets. He wrote eight books of criticism, including the award-winning Rhyme's Reason: A Guide to English Verse and The Work of Poetry, and edited or coedited twenty-two collections, among them The Oxford Anthology of English Literature, American Poetry: The Nineteenth Century, and (with Anthony Hecht, with whom he shared the Bollingen Prize in Poetry in 1983) Jiggery-Pokery: A Compendium of Double Dactyls. Mr. Hollander attended Columbia and Indiana Universities and was a Junior Fellow of the Society of Fellows of Harvard University. He taught at Connecticut College and Yale, and was a professor of English at Hunter College and the Graduate Center, CUNY. In 1990 he received a MacArthur Fellowship. He died in August 2013.
Advertisement