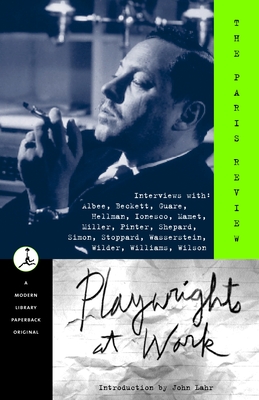 Playwrights at Work (Paperback)
Modern Library, 9780679640219, 432pp.
Publication Date: June 11, 2003
Description
The third installment in the Modern Library's Paris Review "Writers at Work" series, this is an all-new gathering of interviews with the most important and compelling playwrights of our time. Their singular takes on their craft, their influences, their lives, the state of contemporary theater, and the tricks of the trade create an illuminating and unparalleled record of the life of the theater itself. "At its best, theater is an antidote to the whiff of barbarity in the millennial air. 'My feeling is that people in a group, en masse, watching something, react differently, and perhaps more profoundly, than they do when they're alone in their living rooms, ' Arthur Miller says here. In the dark, facing the stage, surrounded by others, the paying customer can let himself go; he is emboldened. The theatrical encounter allows a member of the public to think against received opinions. He can submerge himself in the extraordinary, admit his darkest, most infantile wishes, feel the pulse of the contemporary, hear the sludge of street talk turned into poetry. This enterprise can be joyous and dangerous; when the theater's game is good and tense, it is both."
--from the Introduction by John Lahr.
About the Author
The Paris Review is a literary magazine featuring original writing, art, and in-depth interviews with famous writers. George Plimpton (1927-2003) was the bestselling author and editor of more than thirty books, as well as editor of the Paris Review for its first fifty years. He wrote regularly for such magazines as Sports Illustrated and Esquire, and he appeared numerous times in films and on television. John Lahr is the author of 15 books. Among them are his bestselling biographies of his father, Bert Lahr (Notes on a Cowardly Lion) and the playwright Joe Orton (Prick Up Your Ears, which was made into a feature film). His Dame Edna Everage and the Rise of Western Civilization: Backstage with Barry Humphries was awarded the British 1992 Roger Machell Prize for the best book on the performing arts. Lahr has twice won the ASCAP-Deems Taylor Award for excellence in writing about music. He has also twice won the George Jean Nathan Award for Dramatic Criticism, first in 1969, when he was drama critic for The Village Voice and Evergreen Review, and in 1995 for his work at The New Yorker. His stage adaptations have been performed at London's Royal National Theatre, in the West End, at the Royal Exchange in Manchester, and at the Mark Taper Forum in Los Angeles. His short film (directed by John Hancock) Sticky My Fingers, Fleet My Feet was nominated for an Academy Award. He lives in London.
Advertisement