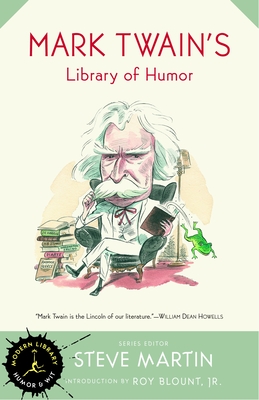 Mark Twain's Library of Humor (Paperback)
Modern Library, 9780679640363, 608pp.
Publication Date: May 30, 2000
* Individual store prices may vary.
or
Not Currently Available for Direct Purchase
Description
Beginning with the piece that made Mark Twain famous--"The Notorious Jumping Frog of Calaveras County"--and ending with his fanciful "How I Edited an Agricultural Paper," this treasure trove of an anthology, an abridgment of the 1888 original, collects twenty of Twain's own pieces, in addition to tall tales, fables, and satires by forty-three of Twain's contemporaries, including Washington Irving, Harriet Beecher Stowe, Ambrose Bierce, William Dean Howells, Joel Chandler Harris, Artemus Ward, and Bret Harte.
About the Author
Mark Twain (1835-1910) was born Samuel Clemens in Missouri. As a boy, he worked as a printer and a Mississippi River pilot. A leading literary influence in his own time and ever since, he is the author of many classics, including Roughing It, The Adventures of Tom Sawyer, Life on the Mississippi, The Adventures of Huckleberry Finn, and A Connecticut Yankee in King Arthur's Court.
Praise For Mark Twain's Library of Humor…
"Old pieces of humor are like antique toys: Some of them still work and some don't, but they all have a certain fascination. Especially if we know that they worked for Mark Twain. And when you find one that does still work after, say, a century and a half, if you are like me you say things like 'Look at that workmanship' to cover your wonderment at sharing inner-child glee with someone who was in the grave when your grandmother was born. To my surprise, I feel that way about a good many pieces in this book."        --from the Introduction by Roy Blount, Jr.

"Mark Twain is the Lincoln of our literature."--William Dean Howells
Advertisement