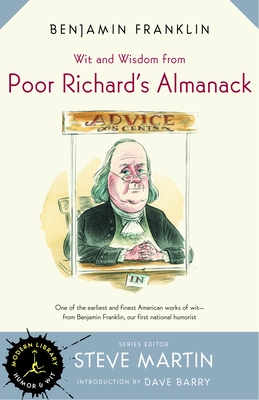 Poor Richard's Almanack: Wit and Wisdom from (Paperback)
Wit and Wisdom from
Modern Library, 9780679640387, 132pp.
Publication Date: June 11, 2003
Description
Franklin's Autobiography is one of the most famous works in American literature. He started it as a private collection of anecdotes for his son, but soon it was transformed into a work of history, both personal and national, revealing Franklin as the man who, as Herman Melville said, possessed "deep worldly wisdom and polished Italian tact, gleaming under an air of Arcadian unaffectedness.
About the Author
Benjamin Franklin (1706-1790), diplomat, scientist, writer, inventor, and printer, was one of the drafters and signers of the Declaration of Independence. In his spare time, he founded the University of Pennsylvania and the first American public library.
Praise For Poor Richard's Almanack: Wit and Wisdom from…
"If you want the brutal truth, I did not expect to get much useful information out of Poor Richard's Almanack. I wondered, what could Benjamin Franklin--a guy who has been, no offense, dead for more than two hundred years--possibly have to say that would be relevant to a resident of today's dot-com world? Plenty, as it turns out."--from the Introduction by Dave Barry
Advertisement