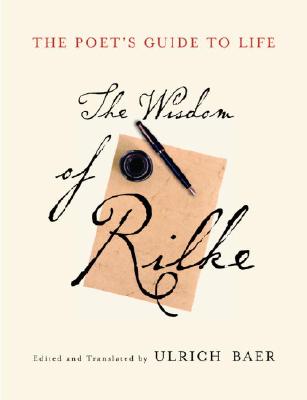 The Poet's Guide to Life: The Wisdom of Rilke (Hardcover)
The Wisdom of Rilke
Modern Library, 9780679642923, 215pp.
Publication Date: March 22, 2005
Description
"You have to live life to the limit, not according to each day but by plumbing its depth."
-RAINER MARIA RILKE

In this treasury of uncommon wisdom and spiritual insight, the best writings and personal philosophies of one of the twentieth century's greatest poets, Rainer Maria Rilke, are gleaned by Ulrich Baer from thousands of pages of never-before translated correspondence.
The result is a profound vision of how the human drive to create and understand can guide us in every facet of life. Arranged by theme-from everyday existence with others to the exhilarations of love and the experience of loss, from dealing with adversity to the nature of inspiration, here are Rilke's thoughts on how to live life in a meaningful way:
Life and Living: "How good life is. How fair, how incorruptible, how impossible to deceive: not even by strength, not even by willpower, and not even by courage. How everything remains what it is and has only this choice: to come true, or to exaggerate and push too far."
Art: "The work of art is adjustment, balance, reassurance. It can be neither gloomy nor full of rosy hopes, for its essence consists of justice."
Faith: "I personally feel a greater affinity to all those religions in which the middleman is less essential or almost entirely suppressed."
Love: "To be loved means to be ablaze. To love is: to shine with inexhaustible oil. To be loved is to pass away; to love is to last."
Intimate, stylistically masterful, brilliantly translated, and brimming with the wonder and passion of Rilke, The Poet's Guide to Life is comparable to the best works of wisdom in all of literature and a perfect book for all occasions.
About the Author
RAINER MARIA RILKE (1875--1926) ranks among the great poets of world literature, and was the author of Duino Elegies and Sonnets to Orpheus. Ulrich Baer, a scholar of modern German, French, and American poetry, is the author of Remnants of Song: Trauma and the Experience of Modernity in Charles Baudelaire and Paul Celan and Spectral Evidence: The Photography of Trauma. He is the editor of 110 Stories: New York Writes After September 11. Baer is associate professor of German and comparative literature at New York University and acting chair of the German department.
Praise For The Poet's Guide to Life: The Wisdom of Rilke…
Advance praise for The Poet's Guide to Life

"Most Western wisdom writers exalt renunciation rather than desire. Rilke is almost Asian in his differences from Goethe, Nietzsche, Freud. For him, eros is not the wisdom of fools and the folly of the wise. Nor does he, like Plato's Socrates, climb the ladder of love toward the Good. Ulrich Baer uniquely makes available Rilke's bittersweet apprehensions of the objective realities-of-desire, and of the consequent, triumphantly knowing poetics-of-loss."
–Harold Bloom, author of Where Shall Wisdom Be Found? and The Western Canon

"Rilke longed to be a worker, and in one autobiographical poem he described his face as that of someone who serves. Like Dante he believed that love is the animating force in the universe–though Rilke's quest took him, not toward the stars, but back to the earth, to the unnoticed miracle of things precisely as they are. Professor Baer's book is the best of its kind I have ever encountered. It is clearly and elegantly translated and arranged, an inspired gift to a world in terrible need of Rilke's grave and joyful vision."
–Franz Wright, author of Walking to Martha's Vineyard, winner of the Pulitzer Prize for poetry

"This thematic selection from the vast trove of Rilke's letters and papers reveals an unfamiliar side of the poet that broadens and deepens the range of his thought. Professor Baer's translations are eloquent, and his splendid Introduction is sensitive, thorough, and illuminating."
–Burton Pike, professor emeritus of comparative literature at City University of New York, and award-winning translator

"Boy, Rilke is a kook. Reading The Poet's Guide to Life, I have to say that I love his point of view."
–Gus Van Sant, director of Good Will Hunting, My Own Private Idaho, and many other films
Advertisement