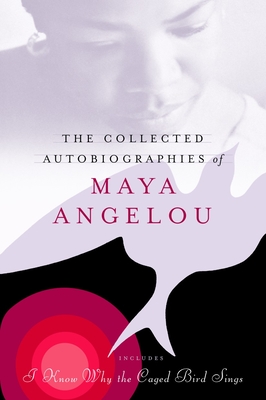 The Collected Autobiographies of Maya Angelou
Hardcover

* Individual store prices may vary.
Description
NEW YORK TIMES BESTSELLER • Maya Angelou's classic memoirs have had an enduring impact on American literature and culture. Her life story is told in the documentary film And Still I Rise, as seen on PBS's American Masters.

This Modern Library edition contains I Know Why the Caged Bird Sings, Gather Together in My Name, Singin' and Swingin' and Gettin' Merry Like Christmas, The Heart of a Woman, All God's Children Need Traveling Shoes, and A Song Flung Up to Heaven.

When I Know Why the Caged Bird Sings was published to widespread acclaim in 1969, Maya Angelou garnered the attention of an international audience with the triumphs and tragedies of her childhood in the American South. This soul-baring memoir launched a six-book epic spanning the sweep of the author's incredible life. Now, for the first time, all six celebrated and bestselling autobiographies are available in this handsome one-volume edition.

Dedicated fans and newcomers alike can follow the continually absorbing chronicle of Angelou's life: her formative childhood in Stamps, Arkansas; the birth of her son, Guy, at the end of World War II; her adventures traveling abroad with the famed cast of Porgy and Bess; her experience living in a black expatriate "colony" in Ghana; her intense involvement with the civil rights movement, including her association with Dr. Martin Luther King, Jr., and Malcolm X; and, finally, the beginning of her writing career.

The Collected Autobiographies of Maya Angelou traces the best and worst of the American experience in an achingly personal way. Angelou has chronicled her remarkable journey and inspired people of every generation and nationality to embrace life with commitment and passion.
Praise For The Collected Autobiographies of Maya Angelou…
"This testimony from a black sister marks the beginning of a new era in the minds and hearts of all black men and women. . . . I Know Why The Caged Bird Sings liberates the reader into life simply because Maya Angelou confronts her own life with such a moving wonder, such a luminous dignity. I have no words for this achievement, but I know that not since the days of my childhood, when the people in books were more real than the people one saw every day, have I found myself so moved. . . . Her portrait is a biblical study in life in the midst of death."—James Baldwin

"Simultaneously touching and comic."—The New York Times

"It is a heroic and beautiful book."—The Plain Dealer

"Maya Angelou is a natural writer with an inordinate sense of life and she has written and exceptional autobiographical narrative . . . a beautiful book—an unconditionally involving memoir for our time or any time."—Kirkus Reviews
Modern Library, 9780679643258, 1184pp.
Publication Date: September 21, 2004
About the Author
Maya Angelou was raised in Stamps, Arkansas. In addition to her bestselling autobiographies, including I Know Why the Caged Bird Sings and The Heart of a Woman, she wrote numerous volumes of poetry, among them Phenomenal Woman, And Still I Rise, On the Pulse of Morning, and Mother. Maya Angelou died in 2014.