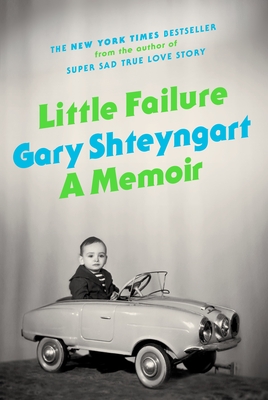 Little Failure
A Memoir
Hardcover

* Individual store prices may vary.
Other Editions of This Title:
Digital Audiobook (1/6/2014)
Paperback (10/7/2014)
January 2014 Indie Next List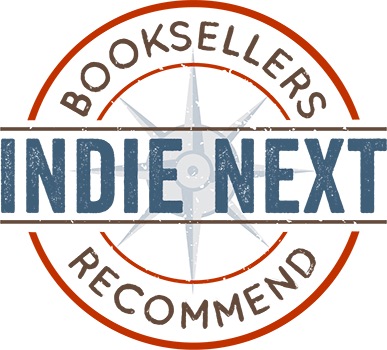 "Bursting with insight, pathos, and Shteyngart's signature self-effacing humor, Little Failure brilliantly illustrates the struggles of an inveterate misfit from his early life in Soviet Russia to his youth in the United States. What sets this memoir apart is Shteyngart's sparkling wit and warmth, and a voice that invites the reader inside his world. Like his novels, Shteyngart's memoir displays an exhilarating mind at work and feels like a fresh, contemporary classic, an unforgettable lesson in growing into yourself and finding your own voice."
— Mark Haber, Brazos Bookstore, Houston, TX
View the List
Description
NEW YORK TIMES BESTSELLER • NATIONAL BOOK CRITICS CIRCLE AWARD FINALIST

NAMED ONE OF THE TEN BEST BOOKS OF THE YEAR BY MICHIKO KAKUTANI, THE NEW YORK TIMES • NAMED ONE OF THE TEN BEST NONFICTION BOOKS OF THE YEAR BY TIME

NAMED ONE OF THE BEST BOOKS OF THE YEAR BY MORE THAN 45 PUBLICATIONS, INCLUDING
The New York Times Book Review • The Washington Post • NPR • The New Yorker • San Francisco Chronicle • The Economist • The Atlantic • Newsday • Salon • St. Louis Post-Dispatch • The Guardian • Esquire (UK) • GQ (UK)

After three acclaimed novels, Gary Shteyngart turns to memoir in a candid, witty, deeply poignant account of his life so far. Shteyngart shares his American immigrant experience, moving back and forth through time and memory with self-deprecating humor, moving insights, and literary bravado. The result is a resonant story of family and belonging that feels epic and intimate and distinctly his own.

Born Igor Shteyngart in Leningrad during the twilight of the Soviet Union, the curious, diminutive, asthmatic boy grew up with a persistent sense of yearning—for food, for acceptance, for words—desires that would follow him into adulthood. At five, Igor wrote his first novel, Lenin and His Magical Goose, and his grandmother paid him a slice of cheese for every page.

In the late 1970s, world events changed Igor's life. Jimmy Carter and Leonid Brezhnev made a deal: exchange grain for the safe passage of Soviet Jews to America—a country Igor viewed as the enemy. Along the way, Igor became Gary so that he would suffer one or two fewer beatings from other kids. Coming to the United States from the Soviet Union was equivalent to stumbling off a monochromatic cliff and landing in a pool of pure Technicolor.

Shteyngart's loving but mismatched parents dreamed that he would become a lawyer or at least a "conscientious toiler" on Wall Street, something their distracted son was simply not cut out to do. Fusing English and Russian, his mother created the term Failurchka—Little Failure—which she applied to her son. With love. Mostly.

As a result, Shteyngart operated on a theory that he would fail at everything he tried. At being a writer, at being a boyfriend, and, most important, at being a worthwhile human being.

Swinging between a Soviet home life and American aspirations, Shteyngart found himself living in two contradictory worlds, all the while wishing that he could find a real home in one. And somebody to love him. And somebody to lend him sixty-nine cents for a McDonald's hamburger.

Provocative, hilarious, and inventive, Little Failure reveals a deeper vein of emotion in Gary Shteyngart's prose. It is a memoir of an immigrant family coming to America, as told by a lifelong misfit who forged from his imagination an essential literary voice and, against all odds, a place in the world.

Praise for Little Failure

"Hilarious and moving . . . The army of readers who love Gary Shteyngart is about to get bigger."—The New York Times Book Review

"A memoir for the ages . . . brilliant and unflinching."—Mary Karr

"Dazzling . . . a rich, nuanced memoir . . . It's an immigrant story, a coming-of-age story, a becoming-a-writer story, and a becoming-a-mensch story, and in all these ways it is, unambivalently, a success."—Meg Wolitzer, NPR

"Literary gold . . . bruisingly funny."—Vogue

"A giant success."—Entertainment Weekly
Praise For Little Failure: A Memoir…
"Hilarious and moving . . . The army of readers who love Gary Shteyngart is about to get bigger."—The New York Times Book Review
 
"A memoir for the ages . . . brilliant and unflinching."—Mary Karr

"Dazzling . . . a rich, nuanced memoir . . . It's an immigrant story, a coming-of-age story, a becoming-a-writer story, and a becoming-a-mensch story, and in all these ways it is, unambivalently, a success."—Meg Wolitzer, NPR

"Literary gold . . . [a] bruisingly funny memoir."—Vogue

"Funny, unflinching, and, title notwithstanding, a giant success . . . The innate humor of Shteyngart's storytelling is dotted with touching sadness, all of it amounting to an engrossing look at his distinct, multilayered Gary-ness."—Entertainment Weekly

"[Little Failure] finds the delicate balance between sidesplitting and heartbreaking."—O: The Oprah Magazine
 
"An ecstatic depiction of survival, guilt and perseverance . . . Russia gave birth to that master of English-language prose named Vladimir Nabokov. Half a century later, another writer who grew up with Cyrillic characters is gleefully writing American English as vivid, original and funny as any that contemporary U.S. literature has to offer."—Los Angeles Times
 
"The very best memoirs perfectly toe the line between heartbreak and humor, and Shteyngart does just that."—Esquire
 
"Touching, insightful . . . [Shteyngart] nimbly achieves the noble Nabokovian goal of letting sentiment in without ever becoming sentimental."—The Washington Post
 
"[Shteyngart is] a successor to no less than Saul Bellow and Philip Roth."—The Christian Science Monitor
 
"Moving . . . and laugh-out-loud funny."—USA Today

"Might just be the funniest, most unflinching memoir ever about coming to America."—W Magazine

"Hilarious . . . an affectionate take on growing up in gray Leningrad and Technicolor Queens."—People

"[Little Failure] feels essential, as the document of a way of life that's less and less accessible in our parenting-manual era. Shteyngart was the child of Russian immigrants whose overzealous attention shaped him, for better and worse. Little Failure helps us understand Shteyngart better, but you don't need to have read any of his novels to appreciate his frankness and insight."—Time
 
"A deeply moving love letter to Mr. Shteyngart's life and everything in it: America, Russia, literature, women and his parents."—The Economist

"Little Failure is terrific—the author's funniest, saddest and most honest work to date. [It's] a powerful and often moving portrait of a troubled man's creative origins, comparable in intent (and sometimes in quality) to some of the genre's high-water marks, and owing particular debts to W. G. Sebald, Thomas Bernhard and, most significantly, Vladimir Nabokov, whose name Shteyngart often invokes."—The Guardian (UK)

"[A] keenly observed tale of exile, coming-of-age and family love: It's raw, comic and deeply affecting, a testament to Mr. Shteyngart's abilities to write with both self-mocking humor and introspective wisdom, sharp-edged sarcasm and aching—and yes, Chekhovian—tenderness."—Michiko Kakutani, The New York Times

"What a beautiful mess! . . . [Shteyngart has] not just his own distinct identity, but all the loose ends and unresolved contradictions out of which great literature is made." —Charles Simic, The New York Review of Books
 
"Shteyngart is a great writer—there's no arguing his literary merit—but he's also very, very funny, which is a rare quality in literature these days."—GQ

"Shteyngart's achingly honest, bittersweet comic memoir is a winner."—Vanity Fair
 
"Little Failure . . . puts the lure in failure."—The Wall Street Journal

"A near-perfect account of the churning state of one man's inner life."—The Sunday Times (London)

"[Shteyngart is] the Chekhov-Roth-Apatow of Queens."—The Millions
 
"Surely some enterprising scholar is already gnawing at the question of why two of the brilliant outliers of American writing were Russian immigrants. One, of course, was the great Vladimir Nabokov. The other is the youngish Shteyngart. They both have the qualities of sly humor, secret griefs."—San Francisco Chronicle

"Funny, heartbreaking and soul-baring  . . . [Shteyngart is] one of his generation's most original and exhilarating writers."—The Seattle Times

"[A] stellar memoir."—Parade

"[Shteyngart] has dismantled the armor of his humor to give readers his most tender and affecting gift yet: himself."—The Boston Globe

"[Shteyngart's] irrepressible humor disguises a Nabokovian love of the English language and an astute grasp of human psychology."—Newsweek

"Shteyngart uses his immigrant experience, together with some of the wisdom of Russia's cultural past, to capture a generation of middle-class Americans . . . and give us a beautifully rendered world of orange-coloured cheese puffs and Cold War menace."—The Times Literary Supplement

"If you thought his fiction was funny, read Shteyngart's memoir, Little Failure. As you might expect, he's no less neurotic than his characters."—New York
 
"Frenetically funny, even overwhelmingly enjoyable."—Financial Times

"[Little Failure] should become a classic of the immigrant narrative genre."—The Miami Herald
 
"There is no better comic writer alive than Mr. Shteyngart. . . . And yet it's [his] past, and the tension it creates with the cushy interior life that America affords, that makes him a much more interesting novelist than his American peers."—The New York Observer

"Ever wonder how a Russian émigré with a wicked sense of humor becomes a great American novelist? In his new memoir, Gary Shteyngart tells his craziest, funniest, super-saddest tale yet: his own."—Francine Prose, Interview

"[Shteyngart's] best work to date."—The Moscow Times

"Shteyngart seems to have made a deal with some minor devil (a daredevil?) stipulating that if he exposed every crack and fissure in himself, laid bare every misstep, f***up, and psychic flaw, his memoir would be a deep and original book. If so, the payoff here was absolutely worth it."—Kate Christensen, Bookforum

"By turns naive and cynical, hyper-intelligent and comically immature, empathetic on the page and unfeeling off it, his self-portrait of a Soviet Jew transplanted aged seven from Leningrad to Eighties America is a masterpiece of comic deprecation."—The Telegraph (UK)

"This Shteyngart, sad and longing and desperate for connection (with his parents, with his readers), seems the most fully human person this author has ever created."—The Jewish Daily Forward
 
"The best memoirs are ones that are perfectly individuated, particular—and yet somehow speak to every reader's life, every reader's family. This is one of those rare books."—New Statesman

"Many, many people in this world have received blurbs from Gary Shteyngart, but I happen not to be one of them. So you can trust me when I say: Little Failure is a delight."—Zadie Smith, New York Times bestselling author of NW and White Teeth
 
"Little Failure is told with fearlessness, wisdom and the wit that you'd expect from one of America's funniest novelists."—Carl Hiaasen, New York Times bestselling author of Bad Monkey
 
"Portnoy meets Chekhov meets Shteyngart! What could be better?"—Adam Gopnik, New York Times bestselling author of The Table Comes First and Paris to the Moon

"If you, like me, have often wondered, 'How did Gary Shteyngart get like that?,' Little Failure is the heartfelt, moving, and truly engaging memoir that explains it all. Dr. Freud would be proud."—Nathan Englander, author of What We Talk About When We Talk About Anne Frank
Random House, 9780679643753, 368pp.
Publication Date: January 7, 2014
About the Author
Gary Shteyngart is the New York Times bestselling author of the memoir Little Failure (a National Book Critics Circle Award finalist) and the novels Super Sad True Love Story (winner of the Bollinger Everyman Wodehouse Prize), Absurdistan, and The Russian Debutante's Handbook (winner of the Stephen Crane Award for First Fiction and the National Jewish Book Award for Fiction). His books regularly appear on best-of lists around the world and have been published in thirty countries.
Coverage from NPR
or
Not Currently Available for Direct Purchase