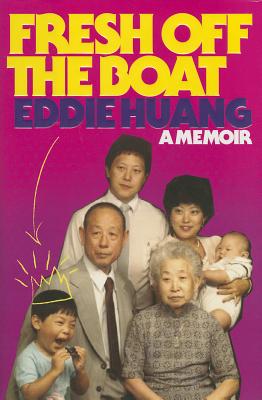 Fresh Off the Boat (Hardcover)
A Memoir
Spiegel & Grau, 9780679644880, 288pp.
Publication Date: January 29, 2013
Other Editions of This Title:
Digital Audiobook (1/28/2013)
Paperback (11/12/2013)
Compact Disc (1/29/2013)
* Individual store prices may vary.
Description
"Long before I met him, I was a fan of his writing, and his merciless wit. He's bigger than food."—Anthony Bourdain

NATIONAL BESTSELLER • NAMED ONE OF THE BEST BOOKS OF THE YEAR BY KIRKUS REVIEWS

Eddie Huang is the thirty-year-old proprietor of Baohaus—the hot East Village hangout where foodies, stoners, and students come to stuff their faces with delicious Taiwanese street food late into the night—and one of the food world's brightest and most controversial young stars. But before he created the perfect home for himself in a small patch of downtown New York, Eddie wandered the American wilderness looking for a place to call his own.  

Eddie grew up in theme-park America, on a could-be-anywhere cul-de-sac in suburban Orlando, raised by a wild family of FOB ("fresh off the boat") hustlers and hysterics from Taiwan. While his father improbably launched a series of successful seafood and steak restaurants, Eddie burned his way through American culture, defying every "model minority" stereotype along the way. He obsessed over football, fought the all-American boys who called him a chink, partied like a gremlin, sold drugs with his crew, and idolized Tupac. His anchor through it all was food—from making Southern ribs with the Haitian cooks in his dad's restaurant to preparing traditional meals in his mother's kitchen to haunting the midnight markets of Taipei when he was shipped off to the homeland. After misadventures as an unlikely lawyer, street fashion renegade, and stand-up comic, Eddie finally threw everything he loved—past and present, family and food—into his own restaurant, bringing together a legacy stretching back to China and the shards of global culture he'd melded into his own identity.

Funny, raw, and moving, and told in an irrepressibly alive and original voice, Fresh Off the Boat recasts the immigrant's story for the twenty-first century. It's a story of food, family, and the forging of a new notion of what it means to be American.

Praise for Fresh Off the Boat
 
"Brash and funny . . . outrageous, courageous, moving, ironic and true."—New York Times Book Review
 
"Bawdy and frequently hilarious . . . a surprisingly sophisticated memoir about race and assimilation in America . . . as much James Baldwin and Jay-Z as Amy Tan . . . rowdy [and] vital . . . It's a book about fitting in by not fitting in at all."—Dwight Garner, The New York Times
 
"Uproariously funny . . . emotionally honest."—Chicago Tribune
 
"Huang is a fearless raconteur. [His] writing is at once hilarious and provocative; his incisive wit pulls through like a perfect plate of dan dan noodles."—Interview
 
"Although writing a memoir is an audacious act for a thirty-year-old, it is not nearly as audacious as some of the things Huang did and survived even earlier. . . . Whatever he ends up doing, you can be sure it won't look or sound like anything that's come before. A single, kinetic passage from Fresh Off the Boat . . . is all you need to get that straight."—Bookforum
About the Author
Eddie Huang is the proprietor of Baohaus. He hosts "Fresh Off the Boat" for VICE TV, hosted "Cheap Bites" for the Cooking Channel, and co-hosted episodes of Anthony Bourdain's "The Layover." He's written for Eater.com, "The New York Observer, "Grantland, and his own popular blog. He lives in New York City.
Praise For Fresh Off the Boat: A Memoir…
Praise for Fresh Off the Boat
 
"Brash and funny . . . outrageous, courageous, moving, ironic and true."—New York Times Book Review
 
"Mercilessly funny and provocative, Fresh Off the Boat is also a serious piece of work.  Eddie Huang is hunting nothing less than Big Game here. He does everything with style."—Anthony Bourdain
 
"Bawdy and frequently hilarious . . . a surprisingly sophisticated memoir about race and assimilation in America . . . as much James Baldwin and Jay-Z as Amy Tan . . . rowdy [and] vital . . . It's a book about fitting in by not fitting in at all."—Dwight Garner, The New York Times
 
"Uproariously funny . . . emotionally honest."—Chicago Tribune
 
"Huang is a fearless raconteur. [His] writing is at once hilarious and provocative; his incisive wit pulls through like a perfect plate of dan dan noodles."—Interview
 
"Although writing a memoir is an audacious act for a thirty-year-old, it is not nearly as audacious as some of the things Huang did and survived even earlier. . . . Whatever he ends up doing, you can be sure it won't look or sound like anything that's come before. A single, kinetic passage from Fresh Off the Boat . . . is all you need to get that straight."—Bookforum
or
Not Currently Available for Direct Purchase