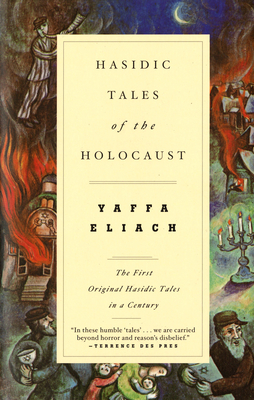 Hasidic Tales of the Holocaust (Paperback)
Vintage, 9780679720430, 304pp.
Publication Date: October 26, 1988
Other Editions of This Title:
Hardcover (10/1/1982)
* Individual store prices may vary.
Description
Derived by the author from interviews and oral histories, these eighty-nine original Hasidic tales about the Holocaust provide unprecedented witness, in a traditional idiom, to the victims' inner experience of "unspeakable" suffering. This volume constitutes the first collection of original Hasidic tales to be published in a century.

"An important work of scholarship and a sudden clear window onto the heretofore sealed world of the Hasidic reaction to the Holocaust. Its true stories and fanciful miracle tales are a profound and often poignant insight into the souls of those who suffered terribly at the hands of the Nazis and who managed somehow to use that very suffering as the raw material for their renewed lives." -- Chaim Potok

"A beautiful collection." -- Saul Bellow

"Yaffa Eliach provides us with stories that are wonderful and terrible -- true myths. We learn how people, when suffering dying, and surviving can call forth their humanity with starkness and clarity. She employs her scholarly gifts only to connect the tellers of the tales, who bear witness, to the reader who is stunned and enriched." -- Robert J. Lifton

"In the extensive literature on the Holocaust, this is a unique book. Through it we can attain a glimpse of the victims' inner life and spiritual resources. Yaffa Eliach has done a superb job." -- Jehuda Reinharz
About the Author
When Yaffa Eliach was only four years old, she survived the Nazi massacres of Jews in her Lithuanian hometown. As an adult, she dedicated herself to the study and memorialization of the Holocaust and its victims. Her mission was to document the lives of the victims, not just their deaths, and restore their humanity. Professor Eliach spent 15 years and hundreds of thousands of dollars in her quest to document the lives of almost everyone who was killed in her childhood shtetl. She did this by collecting photographs, diaries, and letters while traveling to all 50 states and a number of foreign countries. Fifteen hundred of these photographs were implemented in the United States Holocaust Memorial Museum's "Tower of Faces." Yaffa Eliach passed away in November of 2016.
Praise For Hasidic Tales of the Holocaust…
"An important work of scholarship and a sudden clear window onto the heretofore sealed world of the Hasidic reaction to the Holocaust. Its true stories and fanciful tales are a profound and often poignant insight into the souls of those who suffered terribly at the hands of the Nazis and who managed somehow to use that very suffering as the raw material for their renewed lives."--Chaim Potok