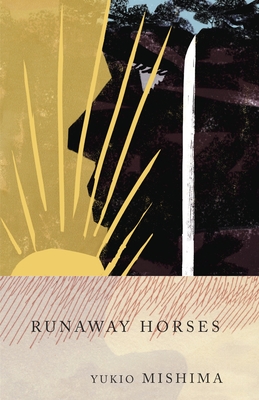 Runaway Horses (Paperback)
The Sea of Fertility, 2 (Vintage International)
Vintage, 9780679722403, 432pp.
Publication Date: April 14, 1990
Other Editions of This Title:
Hardcover, Chinese (12/5/2018)
Paperback (3/1/1999)
* Individual store prices may vary.
Description
Yukio Mishima's Runaway Horses is the second novel in his masterful tetralogy, The Sea of Fertility. Again we encounter Shigekuni Honda, who narrates this epic tale of what he believes are the successive reincarnations of his childhood friend Kiyoaki Matsugae.
 
In 1932, Shigeuki Honda has become a judge in Osaka.  Convinced that a young rightist revolutionary, Isao, is the reincarnation of his friend Kiyoaki, Honda commits himself to saving the youth from an untimely death. Isao, driven to patriotic fanaticism by a father who instilled in him the ethos of the ancient samurai, organizes a violent plot against the new industrialists who he believes are usurping the Emperor's rightful power and threatening the very integrity of the nation. Runaway Horses is the chronicle of a conspiracy — a novel about the roots and nature of Japanese fanaticism in the years that led to war.
About the Author
Yukio Mishima was born in Tokyo in 1925. He graduated from Tokyo Imperial University's School of Jurisprudence in 1947. His first published book, The Forest in Full Bloom, appeared in 1944 and he established himself as a major author with Confessions of a Mask (1949). From then until his death he continued to publish novels, short stories, and plays each year. His crowning achievement, The Sea of Fertility tetralogy—which contains the novels Spring Snow (1969), Runaway Horses (1969), The Temple of Dawn (1970), and The Decay of the Angel (1971)—is considered one of the definitive works of twentieth century Japanese fiction. In 1970, at the age of 45 and the day after completing the last novel in the Fertility series, Mishima committed seppuku (ritual suicide)—a spectacular death that attracted worldwide attention.
Praise For Runaway Horses: The Sea of Fertility, 2 (Vintage International)…
"A modern masterpiece."
—The Baltimore Sun
 
"Mishima is like Stendhal in his precise psychological analyses, like Dostoevsky in his explorations of darkly destructive personalities."
—Christian Science Monitor