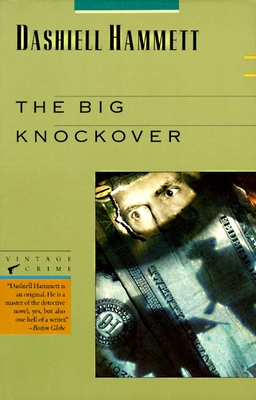 The Big Knockover: Selected Stories and Short Novels (Paperback)
Selected Stories and Short Novels
Vintage Crime/Black Lizard, 9780679722595, 480pp.
Publication Date: July 17, 1989
Description
Short, thick-bodied, mulishly stubborn, and indifferent to physical pain, Dashiell Hammett's Continental Op was the prototype for generations of tough-guy detectives. He is also the hero of most of the nine stories in this volume. The Op's one enthusiasm is doing his job, and in The Big Knockover the jobs entail taking on a gang of modern-day freebooters, a vice-ridden hell's acre in the Arizona desert, and the bank job to end all bank jobs, along with such assorted grifters as Babe McCloor, Bluepoint Vance, Alphabet Shorty McCoy, and the Dis-and-Dat Kid.
About the Author
Dashiell Samuel Hammett was born in St. Mary s County. He grew up in Philadelphia and Baltimore. Hammett left school at the age of fourteen and held several kinds of jobs thereafter messenger boy, newsboy, clerk, operator, and stevedore, finally becoming an operative for Pinkerton s Detective Agency. Sleuthing suited young Hammett, but World War I intervened, interrupting his work and injuring his health. When Sergeant Hammett was discharged from the last of several hospitals, he resumed detective work. He soon turned to writing, and in the late 1920s Hammett became the unquestioned master of detective-story fiction in America. In The Maltese Falcon (1930) he first introduced his famous private eye, Sam Spade. The Thin Man (1932) offered another immortal sleuth, Nick Charles. Red Harvest (1929), The Dain Curse (1929), and The Glass Key (1931) are among his most successful novels. During World War II, Hammett again served as sergeant in the Army, this time for more than two years, most of which he spent in the Aleutians. Hammett s later life was marked in part by ill health, alcoholism, a period of imprisonment related to his alleged membership in the Communist Party, and by his long-time companion, the author Lillian Hellman, with whom he had a very volatile relationship. His attempt at autobiographical fiction survives in the story Tulip, which is contained in the posthumous collection The Big Knockover (1966, edited by Lillian Hellman). Another volume of his stories, The Continental Op (1974, edited by Stephen Marcus), introduced the final Hammett character: the Op, a nameless detective (or operative ) who displays little of his personality, making him a classic tough guy in the hard-boiled mold a bit like Hammett himself."
Advertisement