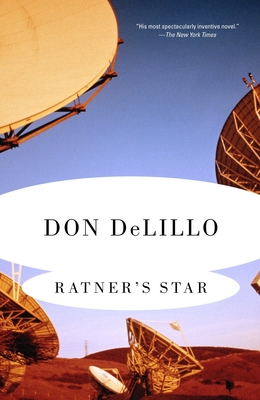 Ratner's Star (Vintage Contemporaries) (Paperback)
Vintage, 9780679722922, 448pp.
Publication Date: July 17, 1989
* Individual store prices may vary.
Description
"A whimsical, surrealistic excursion into the modern scientific mind." --The New Yorker

One of DeLillo's first novels, Ratner's Star follows Billy, the genius adolescent, who is recruited to live in obscurity, underground, as he tries to help a panel of estranged, demented, and yet lovable scientists communicate with beings from outer space. It is a mix of quirky humor, science, mathematical theories, as well as the complex emotional distance and sadness people feel. Ratner's Star demonstrates both the thematic and prosaic muscularity that typifies DeLillo's later and more recent works, like The Names (which is also available in Vintage Contemporaries).  

"His most spectacularly inventive novel." --The New York Times 
About the Author
Don DeLillo is the author of fifteen novels, including Zero K, Underworld, Falling Man, White Noise, and Libra. He has won the National Book Award, the PEN/Faulkner Award for Fiction, the Jerusalem Prize for his complete body of work, and the William Dean Howells Medal from the American Academy of Arts and Letters. In 2010, he was awarded the PEN/Saul Bellow Prize. The Angel Esmeralda was a finalist for the 2011 Story Prize and the PEN/Faulkner Award for Fiction. In 2012, DeLillo received the Carl Sandburg Literary Award for his body of work.
Praise For Ratner's Star (Vintage Contemporaries)…
"[DeLillo's] most spectacularly inventive novel." --The New York Times

"A mind-expanding trip to the finish line, and full of wit and slapstick as well..." --Washington Post Book World 

"Brilliantly...enormously ambitions.... Ratner's Star uses the story of an innocent's 'education' as the launching pad for a provocative, prodigious satire on those pioneers who journey beyond the frontiers of knowledge and end up more ignorant than they were when they set forth." --Chicago Tribune Book World

"This red giant of a book...is not only interesting, but funny (in a nervous kind of way)." --The New York Times Book Review