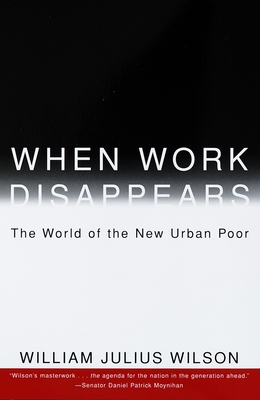 When Work Disappears (Paperback)
The World of the New Urban Poor
Vintage, 9780679724179, 352pp.
Publication Date: July 29, 1997
* Individual store prices may vary.
Description
Wilson, one of our foremost authorities on race and poverty, challenges decades of liberal and conservative pieties to look squarely at the devastating effects that joblessness has had on our urban ghettos. Marshaling a vast array of data and the personal stories of hundreds of men and women, Wilson persuasively argues that problems endemic to America's inner cities--from fatherless households to drugs and violent crime--stem directly from the disappearance of blue-collar jobs in the wake of a globalized economy. Wilson's achievement is to portray this crisis as one that affects all Americans, and to propose solutions whose benefits would be felt across our society. At a time when welfare is ending and our country's racial dialectic is more strained than ever, When Work Disappears is a sane, courageous, and desperately important work.



"Wilson is the keenest liberal analyst of the most perplexing of all American problems...[This book is] more ambitious and more accessible than anything he has done before."
--The New Yorker
About the Author
William Julius Wilson is the Lewis P. and Linda L. Geyser University Professor at Harvard University. He is also the author of Power, Racism, and Privilege; The Declining Significance of Race; The Truly Disadvantaged; and The Bridge Over the Racial Divide. He lives in Cambridge, Massachusetts.