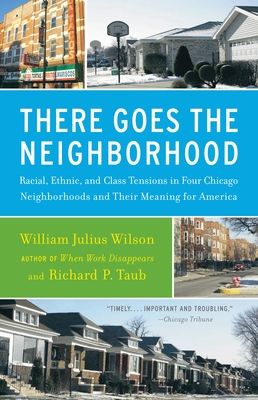 There Goes the Neighborhood: Racial, Ethnic, and Class Tensions in Four Chicago Neighborhoods and Their Meaning for America (Paperback)
Racial, Ethnic, and Class Tensions in Four Chicago Neighborhoods and Their Meaning for America
Vintage Books USA, 9780679724186, 228pp.
Publication Date: October 9, 2007
Description
From one of America's most admired sociologists and urban policy advisers, There Goes the Neighborhood is a long-awaited look at how race, class, and ethnicity influence one of Americans' most personal choices--where we choose to live. The result of a three-year study of four working- and lower-middle class neighborhoods in Chicago, these riveting first-person narratives and the meticulous research which accompanies them reveal honest yet disturbing realities--ones that remind us why the elusive American dream of integrated neighborhoods remains a priority of race relations in our time.
About the Author
William Julius Wilson is the Lewis P. and Linda L. Geyser University Professor at Harvard University. He is also the author of Power, Racism, and Privilege; The Declining Significance of Race; The Truly Disadvantaged; and The Bridge over the Racial Divide. He lives in Cambridge, Massachusetts.Richard P. Taub is the Paul Klapper Professor of Social Sciences and Public Policy at the University of Chicago, where he is also professor of sociology and human development. His previous books include Community Capitalism and Paths of Neighborhood Change. From the Hardcover edition.
Praise For There Goes the Neighborhood: Racial, Ethnic, and Class Tensions in Four Chicago Neighborhoods and Their Meaning for America…
"Timely...Important and troubling."
—Chicago Tribune

"Improving conditions in America's urban neighborhoods will require a deeper understanding of the complex dynamics that divide residents along racial, ethnic and class lines. This compelling and exhaustively researched book makes an invaluable contribution to that endeavor. The focus is on Chicago, but policymakers and concerned citizens from every city in America will learn a great deal from Wilson and Taub's work."
—Senator John Edwards

"Profoundly sobering. . . . Careful and convincing."
—The Washington Post Book World

"Offers a dispassionate analysis of the facts. . . . Wilson and Taub bring the best of social science to bear on these issues; their call is for each of us to face up to what these facts mean for our country and for each of us as citizens."
—Senator Bill Bradley
Advertisement