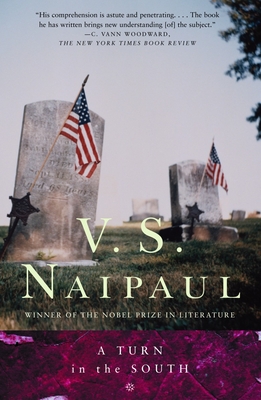 A Turn in the South (Paperback)
Vintage, 9780679724889, 320pp.
Publication Date: February 19, 1990
Description
In the tradition of political and cultural revelation V.S. Naipaul so brilliantly made his own in Among The Believers, A Turn In The South, his first book about the United States, is a revealing, disturbing, elegiac book about the American South -- from Atlanta to Charleston, Tallahassee to Tuskegee, Nashville to Chapel Hill.
About the Author
V. S. Naipaul was born in Trinidad in 1932. He has published more than 20 books of fiction and nonfiction, including A House for Mr. Biswas, A Bend in the River, The Enigma of Arrival and An Area of Darkness. He lives in Wiltshire, England. He was knighted in 1990 and received the Nobel Prize in Literature in 2001.
Praise For A Turn in the South…
"Naipaul's chapters honor the diversity that marks the South.... Conservatives and liberals, whites and blacks, men and women speak for themselves, and reveal the dark side of the story in their own ways...fascinating and revealing." -- Eugene D. Genovese, New Republic

"His writing is clean and beautiful, and he has a great eye for nuance.... No American writer could achieve [his] kind of evenhandedness, and it gives Naipaul's perceptions an almost built-in originality." -- Atlantic Monthly
Advertisement