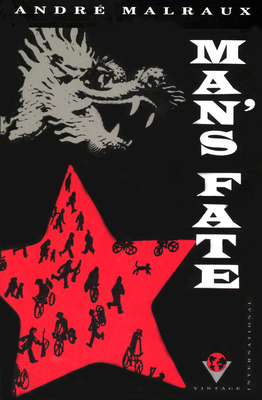 Man's Fate (La Condition Humaine) (Paperback)
Vintage, 9780679725749, 368pp.
Publication Date: February 19, 1990
Description
As explosive and immediate today as when it was originally published in 1933, Man's Fate (La Condition Humaine), an account of a crucial episode in the early days of the Chinese Revolution, foreshadows the contemporary world and brings to life the profound meaning of the revolutionary impulse for the individuals involved. As a study of conspiracy and conspirators, of men caught in the desperate clash of ideologies, betrayal, expediency, and free will, Andre Malraux's novel remains unequaled. Translated from the French by Haakon M. Chevalier.
About the Author
Andre Malraux (1901-1976) was a French novelist, intellectual, art theorist, and statesman. His novels often explore the tension between political idealism and the existential realities of revolution. La Condition humaine (Man's Fate) is his most recognized work and won Le Prix Goncourt, France's most prestigious literary award, in 1933. A talented statesman who promoted French culture during the postwar period, he was France's inaugural minister of culture under the presidency of Charles de Gaulle, serving from 1959 to 1969.
Advertisement