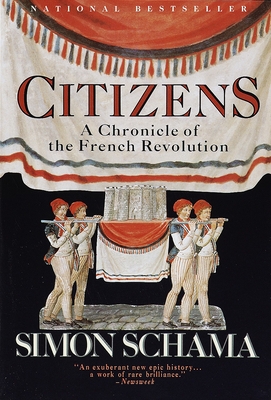 Citizens: A Chronicle of the French Revolution (Paperback)
A Chronicle of the French Revolution
Vintage, 9780679726104, 976pp.
Publication Date: March 17, 1990
Description
In this New York Timesbestseller, award-winning author Simon Schama presents an ebullient country, vital and inventive, infatuated with novelty and technology--a strikingly fresh view of Louis XVI's France.One of the great landmarks of modern history publishing, Citizens: A Chronicle of the French Revolutionis the most authoritative social, cultural, and narrative history of the French Revolution ever produced.
About the Author
Simon Schama is University Professor of Art History and History at Columbia University and the prize-winning author of seventeen books, includingThe Embarrassment of Riches, Citizens, Landscape and Memory, Rembrandt's Eyes, the History of Britain trilogy andThe Story of the Jews. He is a contributing editor of theFinancial Timesand his award-winning television work as writer and presenter for the BBC includes the fifteen-partA History of Britainand the eight-part, Emmy-winningPower of Art."
Praise For Citizens: A Chronicle of the French Revolution…
"Dazzling...stimulating...This is no ordinary book...Schama does not merely write brilliantly about people, about events, about the abuse of rhetoric, and about festivals and executions. He also chronicle with a dramatic burst of poetic imagination.... The virtues of this book [lie] in the coruscating brilliance of dazzling display of erudition and intelligence ... His chronicle is, after all, a stunningly virtuoso performance." -- Lawrence Stone, The New Republic

"One of The Best Books Of The Decade." -- Time

"Monumental...a delight to read...Lively descriptions of major events, colorful cameos of leading characters (and obscure ones too), bring them to life here as no other general work has done....Above all, Mr. Schama tells a story, and he tells it well." -- The New York Times Book Review

"Citizens, like the great 19th-century narratives it emulates, makes entertainment and erudition work hand in hand....As no other recent historian of the revolution, Schama brings to life the excitement -- and harrowing terror -- of an epochal human event." -- Newsweek

"A fresh and elegant narrative...A brilliantly readable and beautifully illustrated account." -- Washington Post Book World

"We are in the hands of a master storyteller...Vivid, dramatic, thought-provoking...Schama's portrait of the revolution is often surprising...His splendid recounting convinces us that much of what we thought we knew is wrong." -- Time
Advertisement