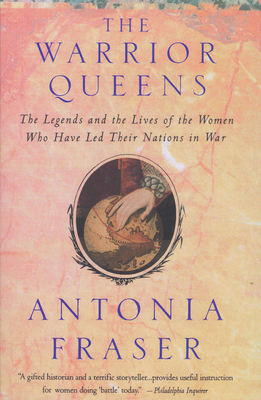 Warrior Queens: The Legends and the Lives of the Women Who Have Led Their Nations to War (Paperback)
The Legends and the Lives of the Women Who Have Led Their Nations to War
Anchor Books, 9780679728160, 432pp.
Publication Date: April 14, 1990
Description
In this panoramic work of history, Lady Antonia Fraser looks at women who led armies and empires: Cleopatra, Isabella of Spain, Jinga Mbandi, Margaret Thatcher, and Indira Gandhi, among others.
About the Author
Antonia Fraser is the author of many internationally bestselling historical works, including Love and Louis XIV, Mary Queen of Scots, and Marie Antoinette, which was made into a film by Sofia Coppola. She is also the author of two memoirs, Must You Go? and My History. She has received the Wolfson History Prize, the 2000 Norton Medlicott Medal from Britain's Historical Association, and the Enid McLeod Franco-British Society Literary Prize. Fraser was made a Dame for services to literature in 2011.
Praise For Warrior Queens: The Legends and the Lives of the Women Who Have Led Their Nations to War…
"The Warrior Queens is lore-packed...and fascinating to read....Fraser has assembled a remarkable group of women for our contemplation....They have outmaneuvered, outtalked, outblustered, and in some cases outshot and outridden the cream of the crop.... Fraser is to be congratulated for rescuing them from their own myths and for giving them their due as individuals." -- Margaret Atwood, Los Angeles Times Book Review

"Fascinating...it is a pleasure to encounter the kind of quick and lively mind that informs every page...the bright and steady pilot light of Antonia Fraser's intelligence." -- The New York Times Book Review

"Antonia Fraser's The Warrior Queens is an intelligent and artful study of women rulers who commanded in battle.... Ms. Fraser at once clarifies history and suggests the many ways that myths betray history.... She holds our attention and she misses nothing." -- The New Yorker

"Lady Antonia catches fire.... There is humor. There is lots of fascinating detail on the sexual mythology that has surrounded most women rulers. There is real insight into how women wield power.... There is a pleasure in having the stories of so many remarkable women gathered in one place." -- Chicago Sun-Times

"Cleopatra, Zenobia, Tamara, Jinga Mbandi of Angola, Catherine the Great and Caterina Sforza, England's two Matildas and Tuscany's one, the beautiful Queen Louise of Prussia and Queen Elizabeth I of England, the names roll on as these women led their countries into victory and defeat.... Fraser, always a diligent historian, has... become a graceful writer and achieved the formidable task of winding a variety of women and countries onto one skein." -- Cleveland Plain-Dealer
Advertisement